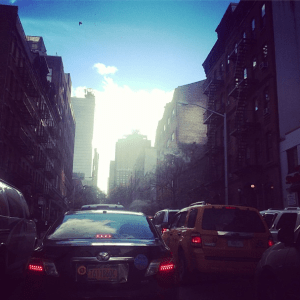 For all the complaints about the city's planned bike share system, is there any better way to get around right now? Social media is already flooded with reports of horrendous traffic—see the Instapic at left from The Times's Sam Sifton, Journal transit reporter Ted Mann reports on Twitter that "City without subways: Flatbush Avenue in Brooklyn is a titanic clog of traffic in the morning rush."
"The deli will be open for breakfast shortly," announces Mile End. "No MTA & heavy traffic delays slowing us down." The Times has a pretty handy graphic of just how horrible it is.
The only thing thicker than the traffic is the tweeting and Facebooking about it. And the reports of multi-bus, multi-hour commutes, sans subway, are piling up.
This reporter will be riding his bike, and he can't help but wonder if a lot more people would be, too, if they had the chance.
There was certainly a lot of schadenfreude this summer when it turned out the Citibike bike share program would be pushed back until next year. Well, if there's another terrible hurricane, perhaps that would be a good thing, but for now, it's kind of a bummer. It reinforces the idea, stressed time and again by DOT Commissioner Janette Sadik-Khan, that the city needs as many transportation modes as possible. For example, my commute would take half as long by bus if the East River Ferry service were back up and running, rather than taking three or four buses up into Queens and over the bridge. Heck, I could cut the buses out, just walk to the East River, hop the ferry, then trek across Manhattan.
The same could be said for those 10,000 bike share bikes. The problem would probably be trying to get ahold of one, but once you did, buzzing by all those back-to-back cars would be a breeze. Also, maybe people will want to invest in their own folding bike for the storage unit, should these freakish storms cease to be freak occurrences but instead an annual tradition. If anything, the equity issue comes back up—the outer-lying areas of the city, which were not due for one of those 600 bike share stations, would be out of luck.
But what about idiots trying to ride bikes in the middle of a hurricane? According to a DOT spokesman, there is a kill switch on the system. Flip it, and all the bikes lock into their stations and cannot be removed. D.C. has apparently used such systems during major blizzards.
Meanwhile, for those thinking of using the buses, good luck figuring out the best route. The MTA has its route maps here, along with status for the buses, but there is no easy way to link them up. Normally, we would turn to Google Maps, but when you do "bus only," Google annoyingly offers routes that include subways. There may be one all-bus route offered (usually with travel times three to four times what they would be on the subway, never mind the traffic you will encounter), but still—when it says "bus only," shouldn't that be what you get?
Hop Stop is not much better, suggesting the East River Ferry as a good route, which as mentioned, is not running. This may be more the MTA's fault, making it hard for these tech-savvy firms to sync their sites with the latest transit advisories, but it would be nice for everyone to figure it out.
This is not just a storm issue, either. For handicapped New Yorkers, the buses are the only piece of the standard mass transit system they can reliably take, given the lack of accessibility on the subway. We'll give Google a pass for now since Chelsea is without power, but hopefully it can fix this in the future.
Now, back to all that traffic. If there was ever any question that mass transit is the lifeblood of this city, one need only walk the car-clogged streets of the city, the avenues and bridge-bound bottlenecks.
Maybe the state ought to put this into perspective when it comes to hiking the fares next year. Isn't the MTA too valuable to gouge everybody for?