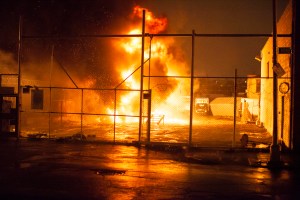 New York City was battered by all of the elements Monday night and in the wee hours of Tuesday morning. After the flooding and winds from Hurricane Sandy reached their peak Monday evening, storm-related fires broke out throughout the five boroughs. The Observer was on the scene for two of these blazes in Brooklyn.
When we showed up at a paper recycling warehouse on Fifth Street and Second Avenue shortly just before 9 p.m., firefighters had already put out the flames. We asked Tom McCarthy, an FDNY battalion chief based in Red Hook, if he knew how many fires the department was dealing with in Brooklyn.
"The borough is alive, I'll put it that way," he said. "Numerous fires."
Less than an hour later, we saw a fire in a parking lot at Bond and President Street. A large R.V. in the lot was completely engulfed in flames and surrounded by firefighters. Witnesses said there had been multiple explosions coming from the vehicle. Within 10 minutes, the firefighters had the blaze under control. Before leaving, we saw Mr. McCarthy again.
"It's one of the busier nights in the department," he said.
Later on, we called the FDNY's press line to ask how many fires they had responded to this evening. A spokesman told us there were "over a dozen major fires." In Breezy Point, one six-alarm blaze has destroyed multiple homes. Though he said he didn't want to speculate, the FDNY spokesman said many of these fires were probably a result of the storm.
"It would seem that most of them are storm-related," he said, going on to cite several factors that contributed to the hot night in New York, "No one's there, escalation being a lot quicker due to our response times being slowed down, or gas problems."
View a video of the fire on Bond and President below as well as pictures taken by photographer Fabian Palencia.
[youtube http://www.youtube.com/watch?v=CeBBlVCC9CM]