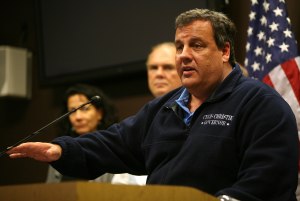 The severe devastation from Hurricane Sandy is no place for presidential politics, according to the governor.
Gov. Chris Christie gave a sharp answer to a question regarding the issue that was asked Tuesday morning by the host of a Fox News show. The governor was asked by Fox and Friends host Steve Doocy whether he thought there was any possibility that presidential hopeful Mitt Romney would visit New Jersey to survey the storm damage.
Christie wasted little time in firing back a stern response.
"I have no idea, nor am I the least bit concerned or interested," Christie said. "I have got a job to do here in New Jersey that is much bigger than presidential politics, and I could care less about any of that stuff."
Christie went on to say that he has "a job to do" and that 2012 election is not on his mind.
"If you think right now I give a damn about presidential politics, than you don't know me," he said.
The interview aired hours before White House officials confirmed to media outlets that President Barack Obama is expected to touch down in New Jersey Wednesday to survey the storm damage,
Christie has praised Obama over the past two days for what he says has been a display of strong leadership on behalf of the president in response to Hurricane Sandy.