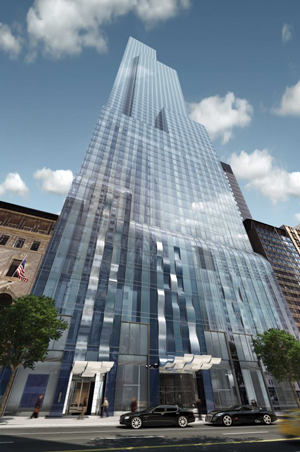 It has been, thus far, a year of almost incandescent hopes for the Manhattan luxury market. The $88 million sale at 15 CPW, the $70 million sale at the Ritz Carlton and rising like a beacon to the south, the unfinished One57 tower, with a penthouse in contract for more than $90 million.
Indeed, the market has burned so brightly for the owners of trophy and would-be and could-possibly-be trophy properties that it may even have blinded a few to the realities of the real estate market—while it could be described as magical, it is not magic. Is One57 a rising tide that will lift all boats (yachts?) or an ultra-luxury development that most other buildings breaking the skyline can't compete with in finishes or prices? Or even worse: a view-blocker, shadow-caster and general reminder that places like the Time Warner Center and the Trump International are not as new as they once were?
CitySpire residents, for one, seem to believe that One57's existence gives them carte blanche to ask unheard of prices, not only for the market, but for the building.  From the $100 million triplex that was purchased for just $4.5 million in the early 1990s as raw space to the $9 million three-bedroom that came on the market yesterday—a condo that if sold at the asking price would more than triple the highest price ever paid for a finished unit in the building. It would also command $1,000 a square foot more than anything else at CitySpire ever has.
"It's the new normal! I know that these apartments will go very very high," declared Marie Bianco, the Prudential Douglas Elliman broker with the $9 million listing (she also has a number of other less expensive listing in the building). "This is priced right, you can't find them anywhere. The thing is, One57 just popped up and it's in the same vicinity, so why shouldn't it get these prices?"
One57 didn't block CitySpire's view, she reasoned, in fact, the two buildings basically shared a view. And while the building itself was older and in need of some "patching up," the apartment itself had been "perfectly renovated." In fact, she estimated that the average price per square foot had leapt from around $2,100 to somewhere between $3,000 and $3,500—though the building has yet to see a sale that would bolster such a reality.
Other brokers estimated that modest gains might be seen in other nearby towers, but not without merit. One57 could command such lofty prices because there was nothing like it. Did One57 change things?
"A little bit," said Corcoran broker Lauren Muss, who recently rented a 3-bedroom condo on the 75th floor of the Time Warner Center that had been listed for sale at $50 million. "It's going to help bring prices up, but only where it's deserving."
"One57 is a product of its own," she added, and for $90 million, an apartment would have to be just as nice as the penthouse at One57—which is no easy feat to pull off.
"It has to have those views, unobstructed views, it has to have double-height ceilings, it has to have a brand-new renovation."
Of course, for some buildings, One57 has been only a nuisance. It's a fact of life in New York that, all broker boasts to the contrary, very few views are forever views. Metropolitan Tower, a 78-story office-and-condo combo that sits across the street from One57 at 146 West 57th Street, is not benefiting from Gary Barnett's stellar sales record. Besides having a construction site as a neighbor all these years, its views now look directly out onto Extell's tower. So long, Central Park.
Halstead broker Renee Fishman told us that she'd had a difficult time selling a 50th floor apartment at the tower, even though you could only see the rising tower from one of the rooms. Barely. By pressing your nose against the window and angling your neck.
"People would go right up to the window and crane their neck and look up and say they could see One57."
Buyers are spooked by rising buildings, Ms. Fishman told us, but the fear dissipates once the building nears completion. People can see that many of the tower's apartments still have expansive views (and can confirm that One57 will not obliterate the sun).  She even thought that One57 would help draw those who might have been hesitant about Metropolitan Tower's Midtown location in the past, encouraging "buyers who may have previously dismissed this area to give the neighborhood another look, and this can help boost prices generally in the area."
After all, if 57th Street is good enough for billionaires…
Does it matter where your condo tower was located, then? Did it matter at all?
"One sale doesn't make a market, so I guess you could say one building doesn't make a market," said appraisal guru Jonathan Miller when we asked him about the impact of One57 on condos in and around Columbus Circle and just south of the park. "You do have people that are trying to take advantage of a new high water mark in an area and believe that it transfers to every other unit in the area. You see people test it. Sometimes it works, sometimes it doesn't."
But would they get it? And as much as $1,000 a square foot more?
He laughed before answering. "My sense is that it's a plus for the immediate area in the general sense—there's a beautiful new building and you'll see an upgrade or expansion of residential services, street level retail in the small radius of the building. But it's not a redefining, it's not like there's a sea change and you flip a switch and there's a new market."
kvelsey@observer.com