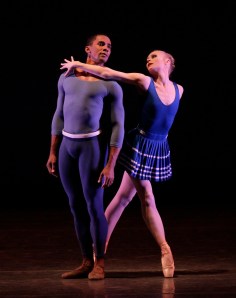 HAVING EMBARRASSED ITSELF (AND US) with its horrible Valentino gala, City Ballet pulled itself together later in the season and gave us many pleasures, as well as much hope for the future. Let us for once dwell solely on the positive.
During the Stravinsky-Balanchine weeks, there was Maria Kowroski, breathtaking with her glamour and expansiveness in that pair of seemingly modest efforts known as Monumentum/Movements, which swell in meaning the more often you see them. There was Tiler Peck, ravishing in Divertimento from "Le Baiser de la Fée," that tantalizing fragment from a full-evening ballet that vanished half a century ago. There was Megan Fairchild in Danses Concertantes, the first role I can remember seeing her in that suits her perfectly—her quickness and charm not undercut either by cuteness or by the anxiety that comes from being cast as the kind of ballerina she'll never be. There was a pleasing performance of the novelty Scherzo à la Russe by students from S.A.B., though all too many of them seem to have imbibed smiley-ness in the cradle. Fairchild and Chase Finlay looked good together in Duo Concertant—she has something of the cameo affect of the original girl, Kay Mazzo, and he can, maybe, some day, approximate Peter Martins. Other dancers had good seasons: Sterling Hyltin, Janie Taylor (at last being used fully), Sébastien Marcovici, Robert Fairchild and Savannah Lowery, who was particularly interesting as the Princess in Firebird, performing full-out rather than in the usual pallid throwaway style this role is too often reduced to.
But the great excitement of the season was the only premiere—Justin Peck's Year of the Rabbit, fulfilling all the hopes everyone has had for this 25-year-old member of the corps. The curtain goes up on a bunch of guys arranged in such an original way that you gasp. It's amazing how you can tell within seconds that a real voice and a sure hand are in charge. Peck isn't yet a master, but you know right away that he's a big talent, reveling in his powers of invention.
Rabbit is a ballet in seven parts, featuring six of the company's major dancers, although its finest effects are for the corps. The music is by Sufjan Stevens, and it's immensely danceable—this has clearly been a close collaboration; Peck himself did the cheery blue-with-white-trim costumes. Ashley Bouder slashes through the air. Joaquin De Luz bounds and whip-turns. Teresa Reichlen has been handed a role that takes perfect advantage of her extraordinary long-limbed body and strong technique—at last someone is identifying her rather than just exploiting her; let's hope Peck can do for her what Christopher Wheeldon did for Wendy Whelan. Janie Taylor and Craig Hall perform their intense duet as if it were one long phrase. The entire corps seems galvanized, happy to be part of this happiest of occasions—the coming-out party of a real choreographer.
The sense of occasion was emphasized by the company Rabbit found itself in: Benjamin Millepied's vapid, trendy Two Hearts and Wheeldon's over-extended and under-invented Les Carillons. Yes, comparisons are odious, but we're not the ones making them; that was done by whoever put this program together. That City Ballet may have found itself a first-rate dance-maker is the most heartening news of the year.
DOUG VARONE, at his recent season at the Joyce, waited till his second program to put his best foot forward. Program A included an extended new work, Caruggi, to an obscure oratorio written by Mozart when he was 15 and sounding nothing like himself—it's generic 18th-century stuff. This is the biblical story of Judith and Holofernes, but you'd never know it, since the action isn't literal and no libretto or synopsis is supplied. As always, Varone moves groups of dancers with great fluency, but for me Caruggi was a let-down—as if it was made on autopilot. Unlike the revival of his Ballet Mécanique, to George Antheil's famous score. With its echoes of Metropolis and its dazzling (and dizzying) scenic projections, Ballet Mécanique is a period piece from that highly charged period, the '20s—an appropriate vehicle for Varone's eight highly charged dancers, who get no rest, and neither do we. The evening began with a striking, intense piece to one of Schubert's "Moments Musicaux," Aperture (1994), which gives us two men and one woman seen very, very close-up—small, controlled gestures of arms and hands, even fingers. It's understated and compelling, one of Varone's signature explorations of human relationships.
Program B opened with a revival of the mysterious Boats Leaving (2006), to a Te Deum by Avro Pärt. We do not understand the literal nature of the crisis the dancers are undergoing, but as they surge back and forth from despair to hope, we do understand the depth of their feeling and the significance of their experience. This is a grave and beautiful work, enhanced by superb lighting by Jane Cox. Another new piece, Able to Leap Tall Buildings, was another small-scale work (two dancers), at times aggressive, at times somber, but always gripping. And then things ended with a bang. Rise (1993) is one of Varone's go-for-broke kinetic marathons, featuring the impossibly tall and thin Julia Burrer sweeping the sky with her immensely long arms and goading the entire company into thrilling rushes and falls and clashes and clutches. It's irresistible.