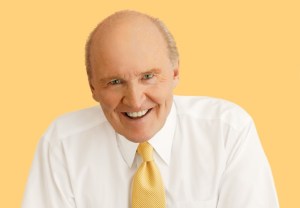 Jack Welch is basically the picture of a serious businessman—bald, steely-eyed, author of such titles as Winning and Jack: Straight from the Gut, owner of a rarely (but sometimes!) questioned reputation from his 20-year tenure as the chief executive officer at General Electric. All of which, presumably, is why the Internet took him so seriously this morning when he went on Twitter and said that the fix was in on the monthly jobs report.

First there was the piling on. Florida Congressman Allen West posted a note to Facebook:
I agree with former GE CEO Jack Welch, Chicago style politics is at work here. Somehow by manipulation of data we are all of a sudden below 8 percent unemployment, a month from the Presidential election. This is Orwellian to say the least and representative of Saul Alinsky tactics from the book "Rules for Radicals"- a must read for all who want to know how the left strategize.
The Washington Examiner's Conn Carroll tweeted an alternative conspiracy theory:
Former Chief of Staff for the US Department of Labor Paul Conway told Business Insider to consider the timing:
To have a drop of 8.1 percent to 7.8 percent and have your job-creation number at 114 thousand, at best, it's interesting. At worst, yeah, it is suspicious.
Hook baited, the world responded. Labor Secretary Hilda Solis went on CNBC and said she was "insulted" by the suggestion of bad behavior. Goldman Sachs chief economist Jan Hatzius pooh-pooed Mr. Welch's suggestion in a note to clients ("For the most part, this looks like a genuine move."). Former Bureau of Labor Statistics head Keith Hall told The Journal that it wasn't impossible to fake the job numbers.
It was all more than a little bit ridiculous. As Henry Blodget pointed out, the jobs numbers were not actually particularly inspiring.

It seemed like it must have been a joke, what with Mr. Welch tied up in meetings and unavailable for comment.
But lo!
"I wasn't kidding," he told The Journal finally, adding: "I am doing nothing more than raising the question."