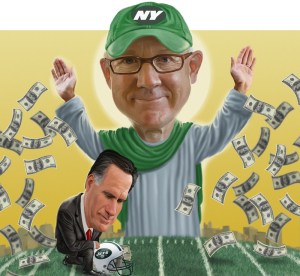 The New York Jets suffered an embarrassing 34-0 defeat at the hands of the San Francisco 49ers Sunday that has many observers wondering if the team is doomed this season, however Jets owner Woody Johnson is apparently more concerned about Mitt Romney defeating President Barack Obama than he is about his team's prospects. Mr. Johnson, who is the chairman of Mr. Romney's campaign in New York, discussed his priorities this morning in an appearance on Bloomberg TV's Market Makers.
"I think you always have to put country first so I think it's very, very important that for–not only for us but for in particular our kids and grandkids that this election come off with Mitt Romney and Ryan as president and vice president," Mr. Johnson said when the show's hosts asked him whether he'd prefer a winning season for the Jets or a victory for the Republican ticket.
Though Mr. Johnson, who is the heir to the Johnson & Johnson family fortune, clearly cares more about politics, he's obviously not pleased about the performance of the Jets. In the same interview, Mr. Johnson described the team's beating at the hands of the 49ers as an "unacceptable" disappointment to fans.
Watch a video of Mr. Johnson on Market Matters below via the Washington Free Beacon.