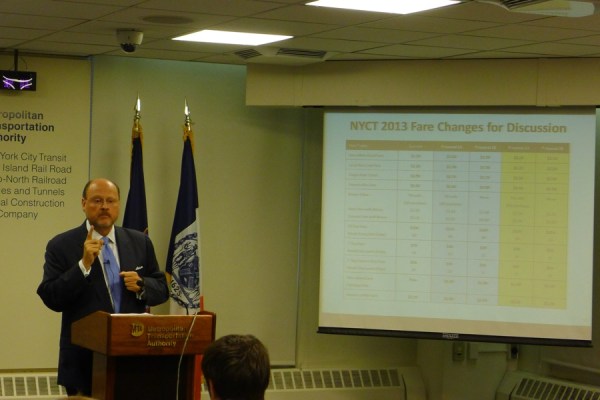 Call him Professor Joe Lhota.
At MTA headquarters this morning, the transit agency's chairman unveiled a fare and toll increase plan for next year that raises all travel costs by about 7 percent across the system, raising $450 million for the agency for the next two years.
For straphangers, this means monthly MetroCards could rise anywhere from $4 to $21, up to $125 per month. The cheaper monthlies would pair with a rise in the base fare to $2.50 and no bonus on the $10 MetroCard, while the most expensive monthly would retain the bonus and the current base fare of $2.25. Two more fare schemes, with a range of price increases across the various MetroCard offerings are also on offer, and Mr. Lhota predicts the end result will fall somewhere in between.
The key in determining exactly what the fares should be is education, he said. "There's a real education aspect to the MTA, to getting people to use the best fares," Mr. Lhota said. For example, one-third of all riders who buy a monthly pass do not reach the 50 rides it takes each month to break even on the $104 passes. Though convenience may also play a factor—buy the thing once a month or get it from work and forget about it.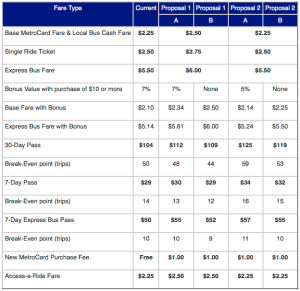 Mr. Lhota said he had no preference for a fare plan, nor had he conferred with the board about which plan they preferred. "We've had a number of briefings, five, I believe, and I didn't even ask. We want to respect the process and hear from the public first."
But the chairman did give the distinct impression he was leaning toward raising the base fare and keeping some form of bonus for the $10 MetroCard. "I prefer something in between," he said, also emphasizing the fact that the four plans were provisional, and a mixture of possible ideas were possible after consultation with the board and the public. Among the reasons for increasing the base fare, Mr. Lhota pointed out that only 15 percent of all riders buy a single ride, so raising it would effect the fewest people. Among riders making less than $25,000, though, 39 percent of riders
"It shouldn't be 15 percent, it should be significantly lower than that," Mr. Lhota said. It is an unusual argument, since the greater the ridership discounts, the less money the MTA makes. But Mr. Lhota said profits are not his goal. "It's important to educate the ridership so they don't have to pay the full amount," Mr. Lhota added. "I want to get as many riders using the discount as possible."