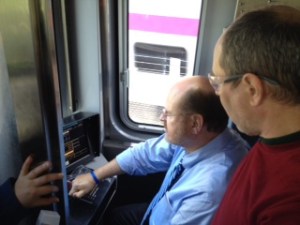 Joe Lhota made it pretty clear when he announced the new fare and toll scheme last week, and the MTA chairman has reiterated his stance once again, now on the radio: the base subway fare is liking to rise from $2.25 to $2.50.
Here is what Mr. Lhota said on WOR radio yesterday:
"The base fare will probably go up, because if it doesn't go up, it will have a huge impact on the people who take the monthly pass and use discounted fares. I think we should focus on the middle class. We need to focus on those folks and minimize the increase. The majority of people either take a seven-day pass, a 30-day pass or use the discount pass, and I think we need to focus on how to keep the cost as low as possible for them."
The problem is, lower-income riders still pay the base fare, meaning this approach could hurt them disproportionately (unless they buying single ride fares, which already cost $2.50 and would rise to $2.75 under the new scheme). But Mr. Lhota stressed last week that his job was as much, if not more, about educating riders and increasing ridership than it was about raising funds. To that end, he appears to be justifying an increase in the base fare on the grounds that any impacts will be mitigated by encouraging more riders to use the discounted fares, which would rise less if the base fare increases, somewhere in the range of $109 to $112 for a monthly pass, up from the current $104.
"It shouldn't be 15 percent, it should be significantly lower than that," Mr. Lhota said of riders not using the discounted fare.
But the higher base fare is also far from a certainty. More than anything else, Mr. Lhota stressed last week that no decision will be made until the public is heard on this matter, and he has even taken the innovative step of creating video set-ups to allow transit riders to film their response at any time should they be unable to make it to one of the hearings.