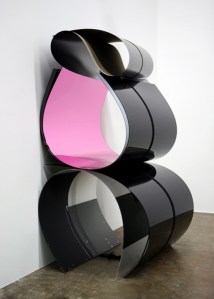 Harris Lieberman gallery now represents the Brooklyn-based artist Julia Dault, best known for her curling sculptures made of lightly bound Plexiglas. Ms. Dault appeared in this spring's New Museum triennial, and had her last one-person show in New York in 2010 at Blackston. She showed earlier this year at White Cube in London.
"It's a natural fit, she feels like family already," Jessie Washburne-Harris, co-owner of Harris Lieberman, said, adding that they've known each other socially for some time.
Ms. Dault's first solo show with the gallery won't be until 2014, since she already has a fairly busy 2013 lined up. She currently appears in the Ninth Gwangju Biennale, and will have work in next week's Frieze Art Fair in London. Ms. Washburne-Harris said they will feature her work in an upcoming group show, though, as well as at Art Basel Miami Beach.
Update, 9:50 p.m.: Clarified that Ms. Dault was not previously represented by a New York gallery.