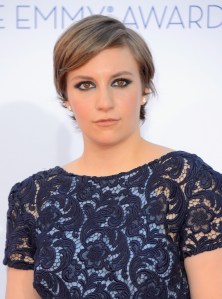 Lena Dunham, the star of HBO's hipster coming-of-age comedy Girls, has already dabbled in film, magazine writing and literature, but she seems to increasingly be adding local political activism to her resume. Last night, Ms. Dunham took to Twitter to express her support for the Paid Sick Days bill, which many politicos believe has been unfairly stalled by Council Speaker Christine Quinn.
"I'm always sick or convinced I'm sick. A flu shouldn't cost you your job. That's why I support #paidsickdays U Can 2," Ms. Dunham wrote before including a link to an online petition asking Ms. Quinn to allow the bill to come to a vote on the floor of the City Council.
This isn't Ms. Dunham's first Twitter-fueled foray into local politics. In July, Ms. Dunham encouraged her followers to attend a series of dinners hosted by the liberal PAC Downtown 4 Democracy, which is dedicated to unseating a targeted list of Tea Party congressional incumbents. She also extended her support for Downtown 4 Democracy beyond the digital realm and actually attended one of the events in person.
Ms. Dunham's political causes have probably-not-coincidentally coincided with the interests of her close friend Audrey Gelman, who is the press secretary for Manhattan borough president and potential 2013 mayoral candidate Scott Stringer. Ms. Gelman sits on Downtown 4 Democracy's board and her boss is a staunch supporter of the paid sick days legislation.