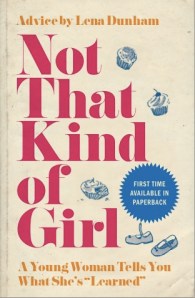 Lena Dunham has sold her book proposal to Andy Ward, an executive editor at Random House for $3.7 M., a source familiar with the deal told us. The auction, which was still going on as late as Friday, was decided over the weekend.
The proposal (obtained by The Observer) for Not That Kind of Girl, mocked up to look like a charmingly vintage advice paperback book that one might find in a thrift shop in an Ohio college town, includes sections on losing her virginity, diet, body image, crying at work, death and travel. Based on the proposal, it's safe to say that the tone of the writing and many of the stories will be familiar to anyone who watches Girls, follows Ms. Dunham on Twitter, has seen her interviewed or profiled in magazines or has read her essay in The New Yorker.
Ms. Dunham is "thrilled to be working with and learning from the brilliant minds at Random House, and to be among their incredible roster of authors. I look forward to digging deep with Andy and co. to produce the most thoughtful and personal book I can," she said in a statement.