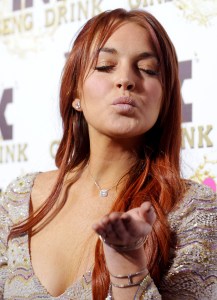 Lindsay Lohan has broken her silence on Hurricane Sandy.
The actress, soon to be seen in Lifetime's Liz and Dick, asked her 4.5 million Twitter followers: "WHY is everyone in SUCH a panic about hurricane (i'm calling it Sally)..?"
Mayor Michael Bloomberg and tri-state Governors Andrew Cuomo, Chris Christie, and Dan Malloy have all urged varying levels of precaution, up to and including shutting down the subway system in the city. Ms. Lohan has stern words for them. "Stop projecting negativity! Think positive and pray for peace."
Ms. Lohan has been injecting herself into big news topics via Twitter more and more, recently congratulating both President Barack Obama and Mitt Romney on their performances at the final debate. (She endorsed Mr. Romney while attending a launch party for a ginseng energy drink.)
The actress also retweeted the Daily News's report on Hurricane Sandy's deleterious effect on flight schedules, possibly to document an example of negative thinking.