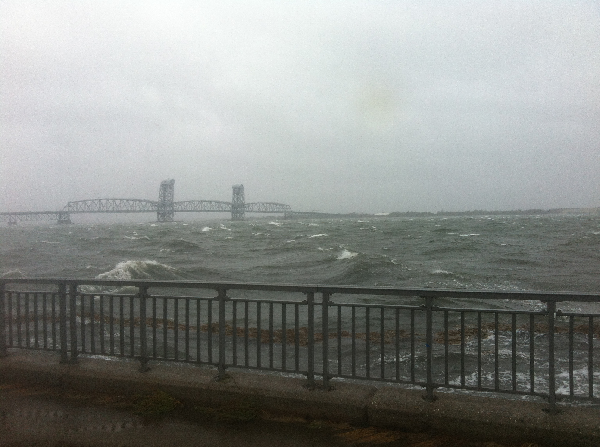 As Hurricane Sandy approaches, our staff is out in the city, reporting on preparations and the storm's impact. Refresh the page as needed, since this post will remain open and updated with the latest.
TUESDAY, OCTOBER 30
[5:59 p.m.] Highlights from Mayor Bloomberg's presser:
"Coney Island Hospital is being evacuated."
City parks are closed and will remain closed till further notice.
Trash collection resumes Tuesday evening. Recycling is still on hold.
The criminal courts are closed, save for "emergency matters."
The mayor encouraged residents to enjoy Halloween as usual, "but use good judgment."
[5:52 p.m.] Rest easy, Midtown residents, the Department of Buildings says the dangling and broken crane drooping from One57 appears safe. It will, however, take some time to secure the structure.
[5:31 p.m.] The Village Halloween Parade has been canceled and will not be re-scheduled. The New York Marathon, however, is still on.
[4:48 p.m.] Sandy took five lives on Staten Island. The dead include Angela Dresch, age 13, and NYPD officer Arthur Kasprzak, who was assigned to the 1st Precinct in Manhattan. Officer Kasprzak was killed in his South Beach home, possibly from electrocuted in his flooded basement.
[4:44 p.m.] Nick Denton calls his Sandy-besieged Gawker Media "the indestructible cockroaches of the media world." Hey, he said it.
[4:08 p.m.] The U.S. death toll from Superstorm Sandy is nearing 40. Two were killed by a fallen tree in Brooklyn's Ditmas Park.
[3:51 p.m.] Reuters reports on telecom disruptions. AT&T, Sprint Nextel and T-Mobile have all had problems but Verizon has been hardest hit, partly due to flooding at Verizon facilities in Queens and Lower Manhattan.
[3:47 p.m.] Colin Campbell has collected still more images of Sandy's aftermath from Manhattan, Brooklyn and the Bronx.
[2:57 p.m.] NBC News reports that President Obama will travel to New Jersey on Wednesday to survey damage from the storm.
[2:31 p.m.] Jessica Roy surveys the flooded Dumbo neighborhood in Brooklyn. We've also begun a list of options for those who want to help others in the storm's aftermath.
[2:24 p.m.] In a White House account of President Obama's calls to mayors and governors in regions affected by Sandy, the President told state officials to keep track and stay in touch regarding needs unmet in the ongoing federal response to the disaster. President Obama also said Homeland Security Secretary Janet Napolitano and FEMA Administrator Craig Fugate, would "remain in constant contact."
[1:17 p.m.] BNO News has a full transcript of Mayor Bloomberg's press briefing.
[12:58 p.m.] The Nuclear Regulatory Commission (NRC) is continuing a "heightened watch over nuclear power plants in the Northeastern U.S. impacted by Sandy."
[12:22 p.m.] Apparent raw video of houses burning in Breezy Point, Queens provides a portrait of a disaster in progress:
[youtube http://www.youtube.com/watch?v=dHV5NwjKZYk]
Politicker reports the Breezy Point blaze destroyed the homes of Congressman Bob Turner and State Conservative Party chair Mike Long.
[11:45 a.m.] MSNBC reports the death toll from Hurricane Sandy in all states affected by the storm has risen to 26 29.
[11:34 a.m.] Governor Andrew Cuomo said during an 11:30 a.m. press briefing that Sandy caused "some of the worst conditions that I have seen." He also heralded "the heroism of our first responders" as the flood waters surged in Brooklyn and Lower Manhattan. The governor said "anyone that says there is not a change in weather patterns is denying reality" and said he'd joked with the president that there is a "100-year flood every two years now." Read a full report on the governor's presser here.
[11:22 a.m.] Matt Chaban adds details from the mayor's press conference.
[11:07 a.m.] The Wall Street Journal is reporting that the New York Stock Exchange will resume trading on Wednesday. Also–in an 11 a.m. press briefing, Mayor Bloomberg said 80 houses had been lost to fire in Breezy Point. Regarding public transport, the mayor said, "If we had to guess, ConEd and the subways [will be back up in] three to four days, and I'd be happy if that's the case."
[10:58 a.m.] From the 311 Online, at NYC.gov:
Due to Hurricane Sandy:Public schools will be closed.

Alternate side parking and meters are suspended.

Garbage and recycling collection are suspended while the City responds to the aftermath of the hurricane.

New York City water is safe to drink.
[10:55 a.m.] Reuters reports commuter train service between New Jersey and Manhattan may be suspended for up to ten days.
[10:52 a.m.] Unconfirmed reports indicate the Brooklyn, Manhattan and Williamsburg bridges have re-opened.
[10:43 a.m.] The MTA's Flickr account has been updated with photos (like the one below) of devastation caused by the Superstorm.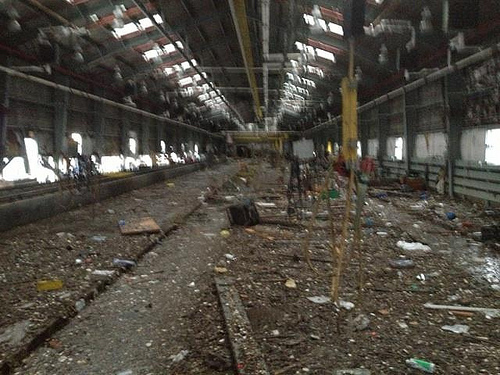 [10:36 a.m.] Using Storify, Brooklyn-based tech author Deanna Zandt tells the saga of holding her roof down for six hours on Monday night.
[10:28 a.m.] Breezy Point was struck by a tornado in early September. Last night the area burned, and multiple homes were destroyed by a six alarm fire.
[10:17 a.m.] In a press briefing, New Jersey Governor Chris Christie said that "there is major damage on each and every one of New Jersey's rail lines." He also said 91 N.J. healthcare facilities had power outages due to the storm. Gov. Christie also said that the "level of damage at the Jersey Shore is unthinkable."
[10:03 a.m.] Matt Chaban provides multiple views of One57's infamous dangling crane, which continues to loom like a tired vulture over Midtown and Carnegie Hall.
[9:53 a.m.] The Observer's Patrick Clark surveyed the damage in Williamsburg.
NBC New York's man in New Jersey, Brian Thompson, tweets a stunning photo of destruction in Seaside Heights:
Casino Pier roller coaster now a water ride Seaside heights #sandy @jshurricanenews #stormteam4 lockerz.com/s/257477603

— Brian Thompson (@brian4NY) October 30, 2012
[9:44 a.m.] The AFP reports that Sandy has forced shutdowns at two nuclear plants:
New Jersey's main power company PSEG Nuclear shut down its Salem 1 unit on the Delaware river, saying most of its water circulation pumps had been rendered unusable "due to weather impacts".
The AFP notes that "external electrical grid" problems forced Entergy to switch off a unit at the Indian Point nuclear facility.
[9:41 a.m.] We've posted new photos that vividly illustrate the wrath of the Superstorm.
[9:29 a.m.] It's official: President Obama declares New York and New Jersey disaster zones. Related–Jezebel's Anna Holmes (no link to Jez because Gawker and Huffington Post were still offline as of 9:15 a.m.) spoke with an MTA employee and it wasn't good. Ms. Holmes tweets, "MTA worker outside 7 train (which goes underneath river) after I asked him about water level in Vernon/Jackson station: He shook his head."
[1:55 a.m.] MTA chairman Joseph J. Lhota has issued a statement addressing commuter service recovery, post-Sandy. The full text is below:
The New York City subway system is 108 years old, but it has never faced a disaster as devastating as what we experienced last night. Hurricane Sandy wreaked havoc on our entire transportation system, in every borough and county of the region. It has brought down trees, ripped out power and inundated tunnels, rail yards and bus depots. As of last night, seven subway tunnels under the East River flooded. Metro-North Railroad lost power from 59th Street to Croton-Harmon on the Hudson Line and to New Haven on the New Haven Line. The Long Island Rail Road evacuated its West Side Yards and suffered flooding in one East River tunnel. The Hugh L. Carey Tunnel is flooded from end to end and the Queens Midtown Tunnel also took on water and was closed. Six bus garages were disabled by high water. We are assessing the extent of the damage and beginning the process of recovery. Our employees have shown remarkable dedication over the past few days, and I thank them on behalf of every New Yorker. In 108 years, our employees have never faced a challenge like the one that confronts us now. All of us at the MTA are committed to restoring the system as quickly as we can to help bring New York back to normal.
[1:32 a.m.] NYU originally planned to evacuate Tisch Hospital, but now it looks like power has failed to the larger facility (NYU Langone) and the hospital must evacuate everyone.
[12:44 a.m.] Scanner traffic indicates multiple fires in Queens and Brooklyn. The Observer's Hunter Walker encountered one:
Fire on Bond & president. twitter.com/hunterw/status…

— Hunter Walker (@hunterw) October 30, 2012
FDNY scanner traffic streams live online at NYCFire.net.
[12:17 a.m.] Power failure has forced NYU to evacuate patients to Mt Sinai and Sloane-Kettering, which is bad enough–now there are reports from multiple sources that Bellevue Hospital may have, at best, two hours of generator power left. Earlier reports of a fire at Coney Island Hospital were in error.
MONDAY, OCTOBER 29
[11:57 p.m.] Someone captured the collapse of a Brooklyn Manhattan building's façade on video (via Charlie Todd):
[youtube http://www.youtube.com/watch?v=UiyhF_GIQlI]
[11:41 p.m.] Citing reports from local officials,  the AFP reports the U.S. death toll from Sandy stands at 12.
[11:28 p.m.] Across Long Island Sound:  The Weather Channel reports that the National Guard is currently evacuating "hundreds" of people who failed to heed warnings to evacuate Greenwich, CT.
[11:21 p.m.] Even though it reports that Superstorm Sandy is still "packing hurricane-force winds," the National Hurricane Center has issued its final advisory about the storm, stating that future warnings will be handled by the National Weather Service.
[11:04 p.m.] Breaking News Wire reports: "The U.S. Nuclear Regulatory Commission is continuing to monitor impacts from Hurricane Sandy on nuclear power plants in the Northeastern United States, including an Alert declared at the Oyster Creek nuclear power plant in New Jersey. The plant, currently in a regularly scheduled outage, declared the Alert at approximately 8:45 p.m. EDT due to water exceeding certain high water level criteria in the plant's water intake structure."
[10:56 p.m.] Coney Island Hospital is reportedly on fire and surrounded by several feet of water.
[10:45 p.m.] Hunter Walker has been tracking the Gowanus flooding and tells the story in pictures, here.
[10:33 p.m.] The Wall Street Journal's Tamer El-Ghobashy reports, "Woman electrocuted to death in Queens after stepping into puddle of water at 135 st and 105 ave, per NYPD source." 

[10:29 p.m.] Marie Claire deputy editor Lea Goldman reports that, contrary to one Instagram photo going around, the lights are still on in Harlem.
[10:26 p.m.] If you've still got power and you're looking for a way to pass the time, rest assured you've got options. @BravoTV just announced: "You guys!!! #AndysHurricaneParty is LIVE at 11. RT if you're watching. #WWHL."
[10:19 p.m.] An update from City Councilman Dan Garodnick:
As of an hour ago, there is no power at Peter Cooper Village or Stuyvesant Town.  There is flooding on 14th, 20th and 23rd Streets, well toward 1st Avenue.  There is considerable flooding deep within the property itself. Everyone should remain inside.  Contrary to news reports, PCV/ST is not being evacuated.  Stay off the roads and move to higher ground if need be.
[10:16 p.m.] The Weather Channel reports that the water level at the Battery has dropped slightly since hitting a peak of 13.88 feet.
[10:13 p.m.] A bit of bad news from that Bloomberg presser: NYU Hospital's backup generators aren't working (despite assurances they would). Evacuations in progress.
[10:07 p.m.] An earlier report of water on the floor of the New York Stock Exchange turns out to have been false, and here's footage confirming all's well.
[10:03 p.m.] Here's a snapshot of someone in Greenpoint strapping on a snorkel to rescue a friend, via Gary He on Twitter.
[9:58 p.m.] Mayor Bloomberg, in the latest press conference update: "If you see a wire on the ground, don't touch it."  There's something like a quarter of a million people without power. Also, don't call 911 for things that aren't a life-threatening emergency. "You are putting other people's lives at risk by occupying the line." Also, don't drive, and all taxi and livery car drivers are being pulled from the road.
[9:56 p.m.] Good news, everyone. As per Brew PR founder Brooke Hammerling, there's at least one place you can turn for electricity: "st. Regis has power. And room service."
[9:35 p.m.] Trillian Media posted this video of one of ConEd transformer explosions that occurred during the storm's heaviest onslaught. The real fireworks begin around 3:20.
[youtube http://www.youtube.com/watch?v=ZAqYZ433TeQ&w=420&h=315]
[9:26 p.m.] Sandy's storm surge is at 13 feet, breaking an 11-foot record set in 1921.
Lights have gone out at the World Trade Center.
Add to that the flooding, which is epic in both Lower Manhattan and Hoboken, as demonstrated by this disaster movie-worthy capture from a PATH subway station security camera, posted on Instagram by writer Joel Johnson: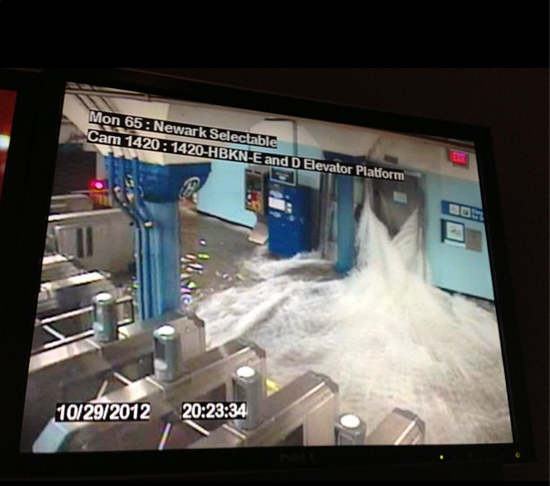 [9:11 p.m.] Major subway lines have flooded. The MTA has announced that subways are closed for the rest of the week.
[9:06 p.m.] AnimalNewYork editor Bucky Turco posted a tweet that speaks for itself:
Huge explosion just rocked the East Village, everything went dark and I mean dark.#Sandy I'm now legit scared. twitter.com/buckyturco/sta…

— Bucky Turco(@buckyturco) October 30, 2012
[8:59 p.m.] Tablet editor Alana Newhouse tweeted an unsettling photo of Manhattan:
Lights out, Manhattan. Creepy. From promenade. twitter.com/alananewhouse/…

— Alana Newhouse (@alananewhouse) October 30, 2012
[8:51 p.m.] Chatter over the FDNY scanner indicates Bellevue Hospital is having difficulty starting its generators due to a flooded basement. Reports on social media indicate the power outage has trapped people in elevators.
[8:45 p.m.] Emergency service scanner traffic indicates another building has partially collapsed at 38th Street and 13th Avenue in Brooklyn. Firefighters are on the scene and have radioed for EMS assistance.
[8:42 p.m.] Flood waters have closed La Guardia. The Weather Channel reports water is rising in the Hugh Carey Tunnel.
[8:36 p.m.] @NYScanner, a Twitter account that simply tracks New York emergency service and police radio broadcast online, reports that rising waters are affecting Brooklyn's finest: "Brooklyn: 60 Precinct Station house Being evacuated att (sic), Reports of numerous officers trapped."
[8:31 p.m.] Superstorm Sandy has even affected the Statue of Liberty. The Times reports that some time near 7 p.m., "the torch at the top of the Statue of Liberty, which shone all through thick daytime fog, driving rain and an early nightfall, went black."
[8:24 p.m.] It looks like staff at the New York Daily News are trapped by the rising waters:
We have just been warned NOT to go downstairs. The lobby to 4 New York Plaza is now flooded. bit.ly/SkKyvM #Sandy

— New York Daily News (@nydailynews) October 30, 2012
[8:19 p.m.] Superstorm Sandy has knocked WNYC offline. The public radio station reports rising waters at its New Jersey transmitter site are to blame.
[7:59 p.m.] In a press briefing held early Monday evening Mayor Bloomberg noted that no fatalities had been reported due to Hurricane Sandy. WNBC now reports a falling tree apparently killed a 30-something man in his residence on 166th Street.
[7:54 p.m.] The Weather Channel reports cars under water near 14th Street and Avenue C in the East Village. It also reports that rising waters at Battery Park have already exceeded previous records and will continue rising.
[7:51 p.m.] The RFK Bridge has been closed due to winds gusting up to 100 m.p.h.
[7:42 p.m.] New York City's homeless population is especially vulnerable as the massive superstorm bears down on the region.
[7:35 p.m.] HuffPo's Meg Robertson tweets a striking image of the building collapse that occurred at 92 8th Avenue:
Across the street from 92 8th Avenue where building facade collapse just happened. (ok to use, plz credit me) twitter.com/MegRobertson/s…

— Meg Robertson (@MegRobertson) October 29, 2012
[7:25 p.m.] Hurricane/post-tropical cyclone/whatever Sandy has momentarily taken all of Gawker Media offline. Attempts to load Gawker.com at 7:27 p.m. returned a "connect to upstream server timedout" status message. Poynter reports HuffPo and BuzzFeed are also offline. Here's Gawker's tweet explaining the outage:
Gawker is temporarily down because the 57th Street Crane just flooded our servers with sea foam, or something. Back with you shortly.

— Gawker (@Gawker) October 29, 2012
[7:15 p.m.] Don't fret about the Gowanus flooding; the Mayor says "we'll clean it up like everything else." Sandy hasn't dampened Mayor Bloomberg's enthusiasm for waterfront development, either.
[7:08 p.m.] Hurricane Sandy semi-officially came ashore over Cape May, N.J. around 6 p.m. Monday (the National Hurricane Center has not confirmed landfall). The storm is still deadly and wreaking havoc across the northeast, but has been downgraded to a post-tropical cyclone.
[6:49 p.m.] Multiple social media reports indicate a four-story building located at 92 8th Avenue in Manhattan has collapsed. That's also the location of the Muscle Maker Grill. Business Insider reports there were apartments in the building and people may be trapped inside (Ed. ~ Scanner reports say no one is trapped in the structure).
[6:20 p.m.] Hurricane Sandy has turned everyone with a camera phone into on-the-scene reporters, including BillGuard founder Yaron Samid, who tweeted the following dramatic photo:
Just now outside my window, huge tree branch falls on moving NYC taxi with passengers. Everyone ok. #ireport #sandy twitter.com/YaronSamid/sta…

— Yaron Samid (@YaronSamid) October 29, 2012
[6:10 p.m.] Since ConEd may switch off power in lower Manhattan and southern Brooklyn, customers may want to keep on eye on this map to keep track of power failures. Until, that is, your own power goes out.
[5:51 p.m.] In a press conference, Mayor Bloomberg said ConEd may shut off power in parts of Brooklyn and in lower Manhattan. The Mayor said 47,000 residents in Queens and Staten Island are in the dark. The Mayor also said public transit will remain closed through Tuesday. The good news is that so far, there have been no known fatalities. The Mayor also emphasized that this storm is not just "nasty, this is dangerous."
[5:33 p.m.] WABC's Kemberly Richardson was reporting from the flooding South Street Seaport  when she had an epic idiot sighting, which you can watch below. It is inadvisable to ride a jet ski in these conditions. To say the least.
[protected-iframe id="1d1fd3b54cbc1b7f668872abb37ed3d7-35584880-35923819″ info="http://cdn.abclocal.go.com/static/flash/embeddedPlayer/swf/otvEmLoader.swf?version=fw1000&station=wabc&section=&mediaId=8865352&parentId=null&cdnRoot=http://cdn.abclocal.go.com&webRoot=http://abclocal.go.com&configPath=/util/&site=" width="400″ height="268″]
[5:12 p.m.] No real surprise here: NY1 reports city schools will be closed again Tuesday. Also, here's NY1's list of bridges that will close at 7 p.m. Monday:
• Throgs Neck Bridge
• Bronx-Whitestone Bridge
• Verrazano-Narrows Bridge
• Henry Hudson Bridge
• Marine Parkway-Gil Hodges Memorial Bridge
• Cross Bay Veterans Memorial Bridge
• George Washington Bridge
The Bayonne, Goethals, Outerbridge Crossing and Robert F. Kennedy/Triborough bridges will remain open for the time being.
[5:01 p.m.] The 5:00 p.m. advisory from the National Hurricane Center isn't any more comforting than the previous advisories. Hurricane Sandy is still a monster with "an extremely dangerous storm surge" that will combine with the tides tonight to "cause normally dry areas near the coast to be flooded by rising waters."
[4:42 p.m.] The following is from the National Hurricane Center's 4 p.m. bulletin about Hurricane Sandy:
LATEST REPORTS FROM AN AIR FORCE RESERVE RECONNAISSANCE AIRCRAFT…
AS WELL AS NOAA DOPPLER RADAR OBSERVATIONS…INDICATE THAT SANDY IS NOW MOVING TOWARD THE WEST-NORTHWEST. ON THIS TRACK…THE CENTER OF SANDY IS EXPECTED TO REACH THE COAST OF EXTREME SOUTHERN NEW JERSEY OR CENTRAL DELAWARE WITHIN THE NEXT 3 TO 5 HOURS.
[4:16 p.m.] CNN's Weather Center tweets that some 765,000 customers in ten states and the District of Columbia are currently without power due to Hurricane Sandy.
[4:09 p.m.] While flooding and dangerous situations like the collapsed crane at One57are the main concerns during an epochal storm like Sandy, much of the storm damage around the city is wind-related, as demonstrated by this shot from Flatbush and Clarkson Avenues in Brooklyn.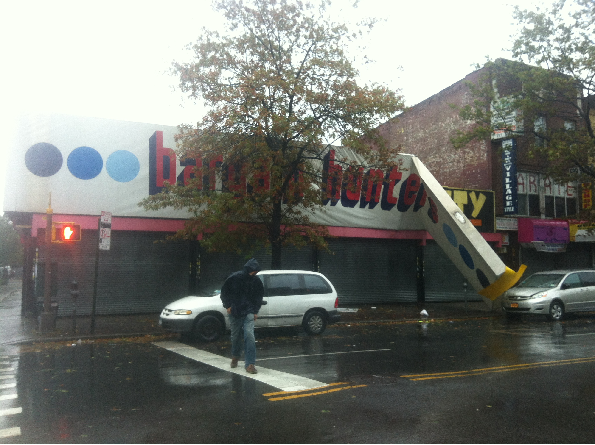 [3:50 p.m.]Reuters journalist Pedro da Costa tweets a remarkable and frightening photo of a familiar New Jersey road:
Boardwalk Empire under water: The road to Atlantic City twitter.com/pdacosta/statu… — Pedro da Costa (@pdacosta) October 29, 2012
[3:41 p.m.] Likely because of the partially collapsed crane atop the 90-story building, Reuters reports that city officials have ordered evacuations for the top floors of numerous buildings near One57 in Midtown Manhattan.
[3:38 p.m.] New York's Fox 5 reports ConEd plans to shut off power to most of Battery Park City–a major flood zone.
[3:34 p.m.] Superstorm or no superstorm, the MTA and Port Authority still want us to pay our damned tolls.
[3:28 p.m.] The Tappan Zee Bridge will be closed beginning at 4 p.m. today, per Governor Cuomo.
[3:23 p.m.]WABC meterologist Amy Freeze tweets a remarkable statistic and a stark warning about Hurricane Sandy:
Pressure of 940mb strongest EVER with landfall N of Cape Hatteras #SandyABC7 STORM SURGE expect EXTREME COASTAL DAMAGE twitter.com/AmyFreeze7/sta… — Amy Freeze (@AmyFreeze7) October 29, 2012
[3:20 p.m.] The Observer's Matt Chaban talked to developer Gary Barnett about the crane collapse at One57.
[3:15 p.m.] In a separate bulletin, the National Hurricane Center is more precise about where the hurricane's official landfall. Don't blame us for the capslock blast, this is just how meteorologists roll:
THE CENTER OF SANDY IS EXPECTED TO REACH THE COAST OF EXTREME SOUTHERN NEW JERSEY OR CENTRAL DELAWARE WITHIN THE NEXT 3 TO 5 HOURS.
[3:07 p.m.] The National Hurricane Center saysHurricane Sandy's landfall is just a few hours away:
…CENTER OF SANDY HEADING TOWARD SOUTHERN NEW JERSEY… …LANDFALL EXPECTED BY EARLY THIS EVENING…
Sandy has picked up speed. It will transition into a "Nor'easter hybrid" sometime around 8 p.m.–right about the time it's striking New Jersey and New York head-on and just before the full moon causes evening high tides.
[2:48 p.m.] Multiple reports over social media indicate a crane has collapsed or partially collapsed at One57 in Midtown Manhattan. A photo posted on CNN exec Jonathan Wald's Instagram account confirms the incident. Asked about cranes around the city in a press conference Sunday, Mayor Bloomberg indicated authorities felt they could withstand the storm. Maybe not.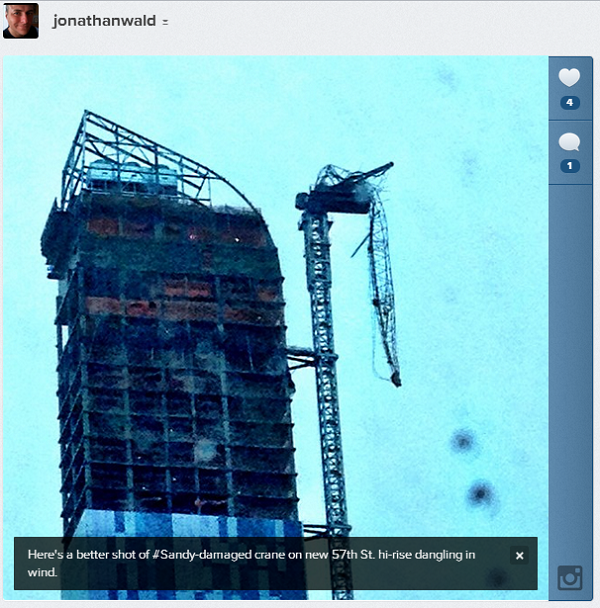 [2:46 p.m.] The Weather Channel's Hurricane Central Twitter account reports that hurricane force winds have begun battering the New Jersey shore.
[2:22 p.m.] The U.S. stock exchange will remain closed Tuesday. The New York Times reports that this "is the first weather-related closure of the American stock markets since Hurricane Gloria in 1985."
[2:08 p.m.] The National Hurricane Center has issued a 2 p.m. advisoryabout Hurricane Sandy. The storm remains intense and won't lose a step once it transitions into an extra-tropical system:
REPORTS FROM THE HURRICANE HUNTER AIRCRAFT INDICATE THAT THE MAXIMUM SUSTAINED WINDS REMAIN NEAR 90 MPH…150 KM/H…WITH HIGHER GUSTS. SANDY IS EXPECTED TO TRANSITION INTO A FRONTAL OR WINTERTIME LOW PRESSURE SYSTEM LATER TODAY OR TONIGHT. HOWEVER…THIS TRANSITION WILL NOT BE ACCOMPANIED BY A WEAKENING OF THE SYSTEM…
[2:01 p.m.] The @NYScanner Twitter account reports a building may have collapsed in Brooklyn:
Brooklyn: 1304 39 St NYPD ESU on scene with a partial building collapsed, Requesting FDNY & EMS to the scene. — NY Scanner (@NYScanner) October 29, 2012
Google Street View indicates this may be a block of small businesses and shops.
[1:57 p.m.] Drew Grant put on an Intrepid Reporter hat and braved the storm to chat with The Weather Channel's Jim Cantore, who may or may not be the Grim Reaper in disguise.
[1:43 p.m.] Because no one listens to dire warnings of death anymore, here is a shot of surfers inexplicably heading out to sea near 110th street in The Rockaways.
[1:37 p.m.] The New York State Division of Homeland Security and Emergency Serviceshas tweeted phone numbers that might be helpful to those seeking information or assistance:
Residents can call 888-769-7243 or 518-485-1159 for #hurricane #Sandyinfo & impact.Also for referrals to county offices & ARC shelters — NYS DHSES (@NYSDHSES) October 29, 2012
[1:25 p.m.] A video made at the beach in Delray Beach, Florida on Sunday is a potent demonstration of the power of Hurricane Sandy. Surf stirred up by the 1,000-mile wide superstorm generated a sudden, tsunami-like wave that took onlookers by surprise: [youtube http://www.youtube.com/watch?v=YPyHqcOw3Q8]
[1:12 p.m.] Atlantic City, N.J. has implemented a city-wide curfew between 6 p.m. Monday and 6 a.m. Tuesday. Additionally, ABC New York reports mandatory evacuations have been ordered in the vicinity of Front St. and Elizabeth Ave. in Elizabeth, N.J.
[1:06 p.m.] Kelly Faircloth braved the wilds of Astoria to report on preparations there–in some places, they're giving out storm manicures. Meanwhile, Atlanta must host a stranded Reverend Al Sharpton until conditions improve.
[12:57 p.m.]Mayor Bloomberg's office has an unambiguous message for anyone who thinks they can ride out the storm in Zone A:
If you are still in Zone A and have a way to get out, leave IMMEDIATELY. Conditions are quickly getting worse. #Sandy — NYC Mayor's Office (@NYCMayorsOffice) October 29, 2012
[12:45 p.m.] In a White House briefing, President Barack Obama said, "this is going to be a big and powerful storm." He noted that he had spoken to governors in all affected states and that FEMA was activated to assist communities hard-hit by Hurricane Sandy. The president said his most important message was for the public to listen to instructions from officials advising on storm preparations and do as they directed. The president directed the public to check Ready.gov for information and updates. Asked how he thought the storm might affect the election, President Obama said in part, "the election will take care of itself next week."
[12:14 p.m.]The signs of The End, when they came, were subtle, but telling:
THIS IS IT. GAME OVER. RT @nicknotned: @felixsalmon @weareyourfek News update: Balthazar has now closed. Repeat. Balthazar has now closed. — Foster Kamer (@weareyourfek) October 29, 2012
This is, however, not the first time we've noted the dire implications in Balthazar shuttering against the blast.
[12:03 p.m.] Aaron Gell reminds helicopter owners, enthusiasts, etc. that you can't lift off from the 30th Street Heliport on the West Side. Choppers don't work underwater.
[11:27 a.m.] President Obama will make a statement about Hurricane Sandy from the White House briefing room at 12:45 today.
[11:21 a.m.] NBC Connecticut reports via Twitter that a flooded substation means 35,000 Bridgeport residents will lose power by noon.
[11:13 a.m.] The Observer's Jessica Roy took a walk through Zone A and files another dispatch from Dumbo's Evacuation Zone.
[11:07 a.m.]There is major flooding on Long Island. The Village of Lindenhurst, east of Amityville, is just one example:
Viewer photo of Shore Road in Lindenhurst. #Sandy #LongIsland twitter.com/News12LI/statu… — News12LI (@News12LI) October 29, 2012
[10:40 a.m.] The National Hurricane Center (NHC) reportsthat Hurricane Sandy now has sustained 90 m.p.h. winds:
Summary of 1100 am edt, 1500 utc, information […] location, 37.5n 71.5w about 205 mi, 330 km se of atlantic city New Jersey about 260 mi, 415 km sse of New York city maximum sustained winds, 90 mph, 150 km/h present movement, nnw or 330 degrees at 18 mph, 30 km/h minimum central pressure, 943 mb, 27.85 inches
[10:32 a.m.] New York will close the Holland and Battery tunnels at 2 p.m. Monday.
[10:06 a.m.]Only in the age of Twitter can we marvel at a compelling photo of a flooding Atlantic City, N.J. with a boardwalk floating in the streets and brush aside the fact that the person who posted the photo is screen-named "Hoeboma":
Atlantic City –> RT @hoeboma: Damn the boardwalk gone uptown instagr.am/p/RXfhKxDL7F/ #Sandy — Hurricane Central (@twc_hurricane) October 29, 2012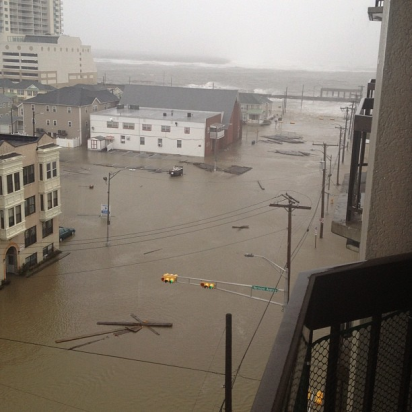 [7:00 a.m.]  The New York Stock Exchange scuttled its plan for electronic trading shortly after midnight and will be completely closed today, as will Nasdaq. As The Observer earlier reported this is the first time the exchange has been closed due to hurricane since Gloria in 1985. See Forbes for more.
[6:32 a.m.] First rain coming down in Park Slope, Brooklyn.
[4:29 a.m.] Storm fronts weren't the only things joining forces during the night, as Random House and Penguin agree to merge.
[12:32 a.m.] The Gowanus Canal is beginning to rise. Hunter Walker goes inside the evacuation zone to report on those who have decided to stay in spite of the rising waters.
[12:32 a.m.] Despite being locked inside, Williamsburg high rise residents decide to stay put.
SUNDAY, OCTOBER 28
[11:55 p.m.] Looking Back: The "first" Hurricane Sandy was a ham radio drill.
[11:44 p.m.] Manhattanites flee the country for city sanctuaries as Sandy approaches.
[11:42 p.m.] The center of Hurricane Sandy is about 475 miles southeast of New York and according to CNN, recent reports from hurricane hunting aircraft indicate the storm is strengthening. It has sustained winds of 75 m.p.h. and has re-developed an eyewall.
[10:50 p.m.] Citing an unnamed source, Reuters reports via its Twitter account that U.S. stock markets may be closed on Tuesday, due to "concerns about market integrity." The markets were already slated to close on Monday, with trading taking place only on the electronic exchange. It now appears even electronic trading may be halted through Tuesday.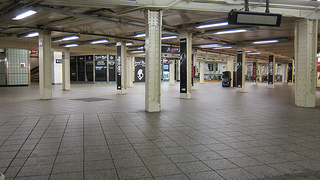 In a different vein–the MTA's Flickr account has been updated with new photos of empty stations. The images (like the one on the left) are a haunting portrait of a city standing still.
[10:28 p.m.] Governor Andrew Cuomo's office has issued a tentative schedule for Monday. In addition to morning press events, the governor plans to deploy the New York National Guard beginning at 1 p.m. tomorrow. Writing for Betabeat, Myles Tanzer reports on how Hurricane Sandy has seriously rained on the New York tech startup's party parade this weekend.
[10:14 p.m.] Jezebelfounder Anna Holmes tweets from Gantry Park around 9 p.m. that the waters are on the rise:
Ok. Gantry Park on the river. Water level almost up to piers. Usually 4-5 feet lower. twitter.com/AnnaHolmes/sta… — Anna Holmes (@AnnaHolmes) October 29, 2012
[10:05 p.m.] Because knowing what Lindsay Lohan thinks about our view of Hurricane Sandy is a vital burning question, here's some comic relief:
WHY is everyone in SUCH a panic about hurricane (i'm calling it Sally)..? Stop projecting negativity! Think positive and pray for peace. — Lindsay Lohan (@lindsaylohan) October 29, 2012
That should do the trick.
[9:13 p.m.] With mass transit closed and dangerous storm surges set to wallop the city, New York startups aren't messing around when it comes to hurricane prep. Most, like Useablenet, Kickstarter, HowAboutWe and SideTour, are urging employees to work from home due to the closure of the MTA system. More at Betabeat.
[9:07 p.m.]The Observer's Hunter Walker reports via Twitter that the Gowanus Canal is already beginning to flood at Second Street.
[8:27 p.m.] Michael H. Miller drops by the last subway still open on the Upper East Side, the Subway Inn, where they're waiting for something really bad to happen.
[7:29 p.m.] Jessica Roy surveys Dumbo as the neighborhood prepares.
[7:29 p.m.] President Obama signs New York emergency declaration.
[7:13 p.m.]Mandatory Hurricane Sandy evacuations include Zone A, Hoboken and Stamford.
[7:07 p.m.] Grand Central Terminal is locked shortly after the last train departure.
[7:04 p.m.] As the storm surge threatens, paywalls recede at the New York Times and the Wall Street Journal, reports Kara Bloomgarden-Smoke.
[7:01 p.m] New York Stock Exchange to open, electronically, in spite of Sandy.
[6:44 p.m.] Ahead of Sandy, Obama and Romney request red cross contributions.
[6:41 p.m.] Mayor's Office and Google team to create crisis map.
[6:40 p.m.] Dan D'Addario investigates where you should drink tonight.
[6:27 p.m.] The Reanimation Library, yards from the Gowanus Canal, evacuates its collection for the second hurricane in little more than a year.
[6:04 p.m.] As Sandy nears, galleries cancel openings.
[2:45 p.m.] Broadway performances canceled Sunday and Monday.
[11:30 a.m.] Mayor Bloomberg calls for evacuation of low-lying areas, closes schools Monday.
[10:50 a.m.] MTA shutting down subways, buses and trains starting at 7 p.m. Sunday