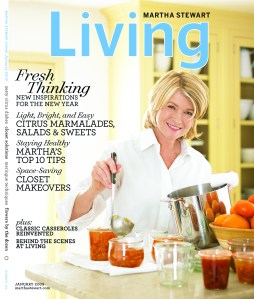 We felt as though we had wondered into the pages of Martha Stewart Living—and in a sense, we had.
Gael Towey, the Chief Integration and Creative Officer of Martha Stewart Living Omnimedia, hosted a cocktail party last night to kick-off American Made, a week-long event where Martha Stewart honors 15 small, American businesses that make pretty things and delicious food.
An army of well-dressed Martha employees took our wrinkled and soggy  trench coat upon arriving at the West Village townhouse that Ms. Towey shares with Stephen Doyle, her designer husband. We were given a  name tag written in calligraphy by Mr. Doyle and directed to the bar. We stopped on the way to talk cheese plates with an editorial assistant. 
Ms. Towey pointed to a  lush backyard where her friends had been married over the summer. Taxidermy in glass boxes lined the walls of the ground floor and original molding decorated the ceiling. There were DIY touches like candle holders hanging in the window and seasonally appropriate gourds scattered purposefully. Peonies stood in large vases on the mantel. Like Mrs. Dalloway, Ms. Towey had bought the flowers herself that morning. It was all very Martha.
We were busy plotting ways to befriend Ms. Towey in the event of a hypothetical wedding when we saw Ms. Stewart stroll in, wearing a drape-y white sweater (she had just come from officiating a wedding as part of a wedding week event).
Ms. Stewart  toasted the small business honorees that make everything from "gluten-free products to cast iron skillets." Ms. Stewart couldn't stay long–she was due on Piers Morgan.
At Ms. Towey's urging, we headed upstairs to explore.  Mr. Doyle stood opposite the spacious kitchen, which bustled with caterers turning out small bowls of mac and cheese and deviled quail eggs covered in wasabi caviar. We admired Mr. Doyle's three-dimensional sculptures made out of books. He described these as text-o-dermy.
Finally, on the third floor, we saw some jeans hanging to dry and an umbrella in the corner, propped next to a fire extinguisher. We were momentarily comforted by the evidence that we were not, in fact, in a magazine.