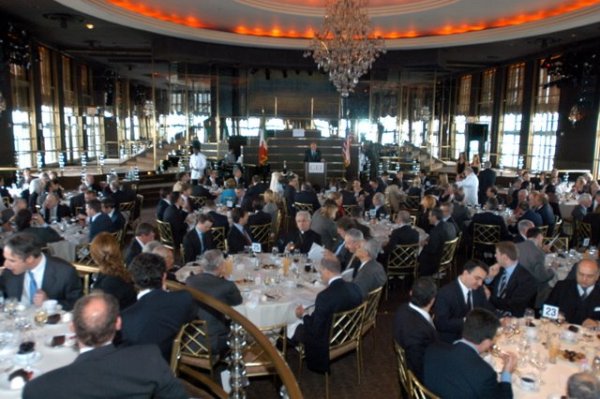 Despite concerns the city's Landmarks Preservation Commission might not grant the Rainbow Room landmarks status, having denied a request to do so only a few years ago, the commission did exactly that this morning, voting unanimously to add the historic eatery to the city's list of interior landmarks, making it the 115th. Now Tishman Speyer and the as-yet unnamed restaurateur it has selected to reopen the restaurant atop Rockefeller Center can get on with the task—though any changes to the space would not have to pass muster with the commission.
"The Rainbow Room came to epitomize New York City glamor," commission chairman Robert Tierney said in a statement. "It retains not only many of its original characteristics, but also several generations' worth of memories. I'd also like to thank the owners for their support of this important designation, and for their many years of fine stewardship of Rockefeller Center."
The 72-foot high room, with its moody lighting and famous dancefloor at the center, was designed by Wallace Harrison, one of the architects of Rockefeller Center, with the help of decorator Elena Bachman and set designer Vincent Minelli, who worked for years at Radio City Music Hall, as well.
A rare example of an Art Deco style known as Streamlined Modern, the space was recast in the 1980s by Hugh Hardy, a sensitive restoration that modernized the space in places. Previously the alterations had been used to justify denying landmarks designation, but it has since been celebrated by the commission as a thoughtful intervention.
Previously, the Ciprianis had led the landmarking campaign in the midst of a fight with Tishman Speyer over their leave of the space. There was some fear the entire room space might be given over to offices, but that only happened on the bottom floor, which had housed back of the house space, one of the reasons a redesign of the remaining rooms are in order. It is not uncommon for a landlord to submit to landmarking in advance of such a renovation, as NYU did with its Silver Tower Complex.
Correction:An earlier version of this post originally misspelled Vincent Minelli's name as Manelli. The Observer regrets the error.