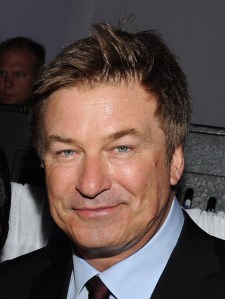 A new poll of the race to replace term-limited New York City Mayor Michael Bloomberg released last night included actor Alec Baldwin, who has hinted he might run for mayor. Based on the numbers, Mr. Baldwin might want to abandon his dream of sitting in City Hall. According to the poll, which was conducted by NY1 and Marist College, 66 percent of New York voters don't want Mr. Baldwin to even try running for mayor. 
Just 18 percent of registered New Yorkers said they'd like to see Mr. Baldwin make a mayoral bid while 16 percent were "unsure." Though Mr. Baldwin has earned a reputation as an outspoken liberal, opposition to him cut across party lines with 69 percent of Democrats and 70 percent of Republicans saying they don't want him to enter the mayoral race.
Mr. Baldwin performed even more poorly in the poll than scandal-scarred former Congressman Anthony Weiner and ex-Governor Eliot Spitzer.
The poll indicated 25 percent of New York voters would like to see Mr. Weiner, who resigned from the House of Representatives in June 2011, after he was caught sending lewd Twitter messages to multiple women, make a run for mayor while 58 percent of voters would prefer to see him stay out of the race. Mr. Spitzer, who left the governor's mansion in 2008 after he was busted for patronizing a prostitution ring, performed slightly better with 30 percent of voters saying they'd like to see him mount a mayoral campaign and 57 percent saying they want him to stay far from City Hall.
Politicker reached out to Mr. Baldwin to discuss the poll results. As of this writing, we have yet to receive a response.