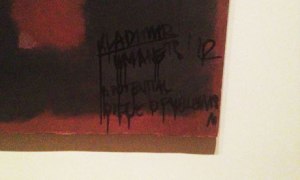 A man named Vladimir Umanets has defaced Mark Rothko's 1958 painting, Black on Maroon, one of his so-called Seagram murals at the Tate Modern. In the corner, he wrote in black ink, "Vladimir Umanets, a potential piece of yellowism." The Guardian did a little digging and found that yellowism is an artistic movement with a delusional website and a stupid manifesto and a phone number. Here's what the man who identified himself as Mr. Umanets had to say to the publication:
"I believe that if someone restores the [Rothko] piece and removes my signature the value of the piece would be lower but after a few years the value will go higher because of what I did…I didn't destroy the picture. I did not steal anything. There was a lot of stuff like this before. Marcel Duchamp signed things that were not made by him, or even Damien Hirst."
Sigh. Somehow, we get the feeling that yellowism isn't really going to catch on.
This morning, the Rothko family issued a statement through Pace Gallery, which represents the artist's estate.
"The Rothko family is greatly troubled by yesterday's occurrence but has full confidence that the Tate Gallery will do all in its power to remedy the situation. Our father donated his legendary Seagram paintings to the museum in 1969 sensing the commitment of the institution to his work and impressed by the warm embrace it had received from the British public. We are heartened to have felt that embrace again in the outpouring of distress and support that we and our father have received both directly and in public forums." – Kate Rothko Prizel & Christopher Rothko
Update, 6:05 p.m.: The Daily Mirror is reporting that the 26-year-old vandal was arrested at his home this evening in Worthing, England.