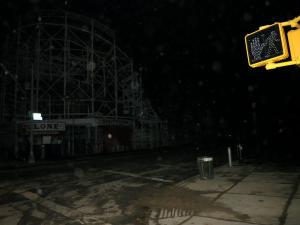 Amid reports that looting has occurred in neighborhoods like Sea Gate and Coney Island in Brooklyn, as well as the broader recovery needs of hard-hit areas, Borough President Marty Markowitz has called on the military for further help in the aftermath of Hurricane Sandy's devastation.
"Governor Cuomo also acted quickly by activating the National Guard prior to the storm, and I urge him to allocate as many troops as possible to Brooklyn—troops from New York or any other states that can spare them," Mr. Markowitz said in a statement. "During my tours of the hardest-hit Brooklyn neighborhoods yesterday and again today, it was apparent that the devastation is so widespread and overwhelming that it's in the best interest of all of our residents for a more significant National Guard presence to supplement the great work being done by our brave—but overwhelmed—first responders, including our amazing NYPD and FDNY."
Mr. Markowitz cited the borough's most flooded, low-lying neighborhoods as the one that need particular assistance from the National Guard.
"In addition to flooding, power outages, lack of utilities, sanitation and water issues, and no transportation in neighborhoods such as Coney Island, Sea Gate, Brighton Beach, Manhattan Beach, Gerritsen Beach, Mill Basin, Sheepshead Bay, DUMBO, Red Hook and others, there have been unfortunate incidents of looting in some locations," he continued. "All of our resources have been stretched to the limit, but in the name of public safety we need to send more National Guard personnel into Coney Island, Manhattan Beach, Gerritsen Beach, Red Hook and any other locations the governor deems appropriate."
According to DNAinfo's police sources, the following incidents have already occurred in Queens and Brooklyn:
The Rockaways
Three suspects were arrested at a Radio Shack 87-09 Rockaway Beach Boulevard
Two were allegedly caught burglarizing a store at 85-14 Rockaway Beach Boulevard
Six were arrested at 38-01 Beach Channel Drive.
One person was arrested at 57-25 Shore Front Parkway.
In Coney Island:
One person was arrested at Mermaid Avenue and West Street.
Another suspect was arrested at Neptune Avenue and 36th Street.