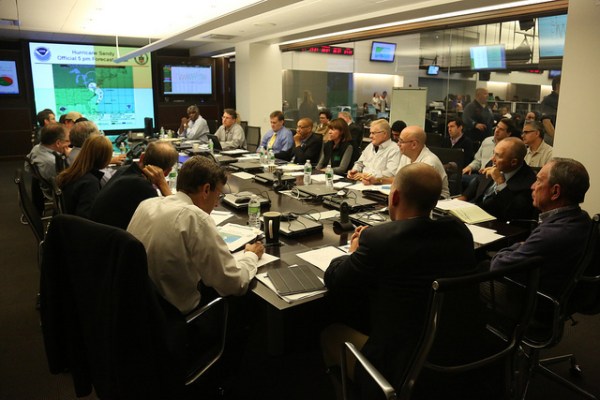 Mayor Bloomberg is calling for an evacuation to commence immediately for all low-lying areas in the city, known as Zone A. He has also announced that school will be closed tomorrow, but that makes a good bit of sense since the MTA has already been shut down.
"Let me repeat, what I said earlier, this is a serious and dangerous storm; if you're in Zone A, evacuation is mandatory," the mayor said.
"We've been through a lot of these over the past 11 years," he added. "We've had hurricanes, a transit strike, a blackout, so we know what to do."
The mayor is still speaking, so stand by for updates. Here is a map of New York City's flood zones to determine if you should evacuate.
Over and over again, the mayor keeps emphasizing that people should stay indoors. "If you're not outside, you don't have to worry about it," Mayor Bloomberg said when a reporter asked him about risks posed by construction debris.
A big part of the reason the storm is looking to be so serious is that it is coming during the full moon, which, no joke, leads to higher tides. Thus, the fears of flooding are heightened, with the mayor saying estimates of storm surges are now higher than originally anticipated, from six to 11 feet, rather than four to eight feet, as was announced yesterday.
This also means things could start to get hairy beginning tonight, with the first high tide of an approaching storm. Flooding should go in cycles every 12 hours, and is expected to peak Monday night, though tonight and Monday morning could also be serious.