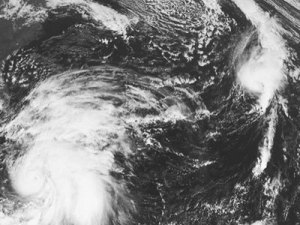 Mayor Bloomberg and the MTA are preparing for the maelstrom that could descend upon the city should the Frankenstorm indeed become the perfect one and dump unholy mayhem on the New York in the coming days. (Remember all the angst that turned out to be for naught in the run-up to Hurricane Irene?)
At a conference of transportation planners hosted by the mayor's streets czar Janette Sadik-Khan, Mayor Bloomberg joked that the assembled wonks, who had traveled from across the country and the world to debate bike lanes and traffic signalization, that they had better beat a fast retreat.
"You want to be out of here before this big storm, which everybody is panicking about, hits us," Mayor Bloomberg said while delivering the closing keynote speech to end the three-day conference. He said it could hit "Sunday, Monday, Tuesday or Wednesday depending on which broadcast you are tuned into, and we've got to decide whether to pull all the subway trains out of low-lying areas, pull the buses out. Of course you can't evacuate people and you can't have schools open if you can't have buses. Or if the storm doesn't hit, god forbid, and you've wasted all this money."
That last comment seems to reflect on the response to Hurricane Irene, when the city had shut down most services, people were obsessing over which flood zone they lived in and New Yorkers rushed out to buy emergency supplies. Their cabinets are probably still full of unburnt emergency candles. The response was seen as appropriate—better safe than sorry—especially in light of the Snowpocalypse that crippled the city the winter before. The mayor, more than mother nature, took most of the blame for that (natural) disaster.
Regardless of what actually happens with the Frankenstorm, if it is an unholy storm or little more than bluster, the need for emergency preparedness almost guarantees the city will be shut down whether the storm is severe or not. Stopping the subways, mass evacuations, such precautions have to get rolling long before the storm hits. And you know how accurate meteorologists can be.
The Observer asked the mayor's spokesman for clarification on what stage storm preparations stand at, but he has not yet responded. An updated schedule for the mayor says he will make an official announcement at 3 p.m. Already the city's Department of Buildings has issued a declaration that all construction work will be suspended starting tomorrow until further notice. An MTA spokesman also said the agency will announce its storm preparations later today.
This could make for one hell of a Devil's Night.
Update 2:21:The MTA has announced it is taking extra precautions to prepare for the storm.
"Our first priority is always safety, and the MTA is taking no chances with the safety of our customers, our employees and our equipment," said MTA Chairman and CEO Joe Lhota said in a release. "We are hoping for the best but preparing for the worst. Whatever happens, we'll be ready."
Here are some of the specifics of what the MTA is undertaking starting this weekend to keep the system running while also preparing to shut it down if need be. Among the positive: there will be no subway construction this weekend, and so service should be running as normal, barring, uh, a disaster.
New York City Transit

Most scheduled weekend subway service changes for construction projects have been cancelled, with the exception of changes planned for the 7 and J lines, which are now scheduled through Saturday only. Crews are inspecting and clearing main drains and pump rooms throughout the subway system. Personnel are checking and cleaning all known flood-prone locations and these areas will continue to be monitored.

Extra workers and managers are prepared to staff New York City Transit's Incident Command Center, situation room, satellite desks, depot operations and facility operations as necessary. The Incident Command Center will be activated starting at 8 a.m. Sunday. Among those present in the ICC throughout the duration of the storm will be Customer Advocates, who will ensure that all decisions made during the event will reflect a focus on customers. They fill a position created after reviews of the agency's performance during Tropical Storm Irene.

Trains will be removed from outdoor yards prone to flooding and moved to more secure locations. Subway ventilation grates vulnerable to flooding will be sandbagged and tarped over. Many station entrances and ventilation grates in low-lying areas have been successfully modified in recent years to raise them above street level, making it more difficult for floodwaters to enter the system.

All portable pumps and emergency response vehicles will be checked, fueled and made ready for service. Outside contractors have been asked to prepare their work sites for heavy weather.

Bus operators are ready to move buses that normally park in low-lying depots to areas of higher ground

Metro-North Railroad

Metro-North personnel are stockpiling material in preparation for possible washouts or bank erosion, and are securing road crossing gates when necessary.

Much of Metro-North's territory runs along rivers and the Long Island Sound With nearly 800 miles of tracks to take care of, Maintenance of Way workers have already begun preparing for Sandy at known trouble spots.

Culverts are being cleared of fallen limbs and other debris. Ditches and swales are being cleaned out. Pumps are being tuned up and put in place at known low spots such as New Haven Yard and Mott Haven Yard, while generators at all rail yards are being fueled and tested.

Cranes and excavators and back hoes are being positioned along the tracks, and a tree service contractor is on call to respond rapidly if needed.

Long Island Rail Road

Long Island Rail Road is preparing facilities and infrastructure by clearing drains, securing work sites against possible high winds, fueling equipment, stocking supplies and making plans to move equipment and supplies away from low-lying areas. Chain saws, generators and pumps are ready for use as well.

The LIRR's scheduled track work this weekend for the replacement of concrete ties between Jamaica and Queens Village, and the resulting bus service for Queens Village and Hollis customers, is now scheduled to end at 11:59 PM Saturday evening.

Extra personnel will be assigned to report for duty before the storm is forecasted to make landfall on Long Island.

Crews will be prepared to remove crossing gates from LIRR crossings in advance of the storm if necessary, to protect them from high winds and assist in a quicker recovery. Service must be suspended if crossing gates are removed.

Bridges and Tunnels

All roadway and drainage systems at Bridges and Tunnels facilities are being checked and cleared of debris. Construction areas will be secured, backup generators are in place, and wrecker trucks and other response vehicles are readied to help motorists who may become stranded. In addition, staffing levels were checked and emergency personnel have been put on standby.

Motorists are advised to reduce speeds when winds are between 40 and 49 mph in dry conditions, and 30 to 49 mph in windy and wet conditions.

When the winds are 50 mph or more in dry or wet conditions, certain vehicles will be barred from using MTA crossings. These include motorcycles, tractor trailers, step vans, mini buses, trucks with open backs, cars pulling trailers, motor homes and vehicles carrying plate glass.

If there are sustained winds of 60 mph or above, the MTA may close one or more bridges to all traffic.