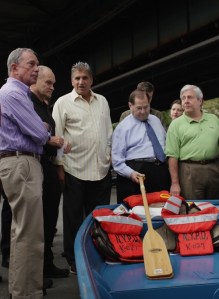 It's not quite time to break out that evacuation chart and figure out whether you're in Zone A or Zone B, but do take the time tomorrow to get your "go bag" ready.
That was the message Mayor Bloomberg just delivered inside the Blue Room at City Hall, where he updated New Yorkers on the city's preparations for the coming Frankenstorm. He stressed that it is still too early to predict where and with what strength the storm might hit the city, but all 8.3 million of us ought to take the chance before then to prepare for anything. In making his case for patient preparedness, at times it sounded as though the mayor had been briefed by Al Roker.
"Whenever weather hits water, land or a mountain range, it's much more unpredictable than when it goes over the water or a flat plains state," Mayor Bloomberg said. "We live on the shore. And that's why forecasting weather can be very difficult to do. The storms pick up moisture from the water and either heat or cool depending on the time of year and the temperature. It is likely to hit some place between Virginia and Massachusetts. But if it's 50 miles away from us or a 100 miles away from us, that's like it didn't get to us. You're asking questions where you have broad possibilities and you want specificity that doesn't exist."
When asked if there was a metric the city was using on when to evacuate, the mayor said, over and over again, that he would be playing it safe. He even echoed the complaints over Hurricane Irene, that the city had gone too far, a decision he remains fine with. "If you have to make a mistake, you'd rather make a mistake on being too cautious," the mayor said.
He strongly urged New Yorkers to spend tomorrow preparing for the storm, including putting together a "go bag," which includes fresh water, important documents, extra keys and other important items. The whole list can be found here.
"Tomorrow should be fine, cloudy and showers is the forecast, I think, but you should be able to go about your business," Mayor Bloomberg said. "We're confident about the weather tomorrow, but Sunday, all bets are off. Sunday night, we'll make a bet and tell you what that is."
For the time being, there are no evacuations planned for low-lying areas, though that can be a delicate decision because the city must plan far enough ahead to evacuate residents, particularly those in city facilities such as nursing homes and hospitals, while leaving enough time for the buses and subways to get out of harms way. This is a big part of the reason extreme measures may be taken before a storm truly proves to be perilous, because the full extent of the storm may not be known by the time the clock reaches the point of no return.
And, in an announcement that is sure to disappoint students and office jockeys across the city, Monday is for now shaping up to be just another day. "Everybody should plan to go to school, plan to go to work," the mayor said.
"Once again, you want to understand, this is a very dangerous storm, you should pay attention to media outlets, including nyc.gov, and hopefully tomorrow night, we'll have better news it's likely to go someplace else. But even then, it could be at the last minute, that's just the way the weather is."