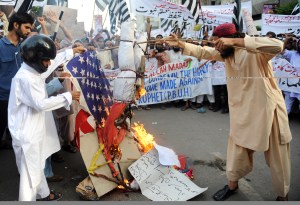 Earlier today, State Department officials testifying before a congressional hearing investigating the attack on the U.S. Consulate in Libya last month admitted they felt there was a terrorist threat in the region. While making the media rounds tonight ahead of the vice presidential debate Mitch McConnell, the leader of the U.S. Senate Republicans, said this new information creates the "suspicion" that the White House's initial attempts to tie the attack  to a video mocking the Muslim prophet Muhammad rather than terrorism may have been a dishonest and politically-motivated coverup.
"Well, we're finally getting the right story from the professionals down at the State Department who've been saying, apparently from the beginning, that it's a terrorist attack," Mr. McConnell said. "I don't know where this notion that this thing was video-inspired came from in the first place. It leaves you with the suspicion that, since the president was in the campaign, going around, reminding everybody that bin Laden was gone and that we're out of Iraq and we'd soon be out of Afghanistan, and implying that the War on Terror was over, the campaign just felt it was inconvenient that we had a terrorist attack that had killed four Americans, as I say, inconveniently within a month of the election."
Mr. McConnell went on to say he found the Obama Administration's initial response to the attacks "disturbing" and that there was "no evidence" the video played a role in the attack. He also added that he hoped Mitt Romney would raise the issue on the campaign trail.
"It's quite disturbing. I mean, there's no evidence that the video was the cause of this terrorist attack, all the evidence is that this was a terrorist attack and the professionals in the State Department felt that from the beginning," said Mr. McConnell. "So I think it was quite disturbing and it should be an issue in the campaign."
At least one family member of one of the four Americans killed in the attack has also accused the Obama administration of misleading them about the cause of the incident for political reasons. On Wednesday Sean Smith, whose son, Pat, died in the attack appeared on CNN's Anderson Cooper 360 and said she feels she has been ignored and mislead by multiple high-level Obama administration officials.
"I told them please tell me what happened, just tell me what happened," Ms. Smith said. "I tell them, please, don't give me any baloney that comes through with this political stuff. I don't want political stuff, you can keep your political. Just tell me the truth–what happened? And I still don't know."
The Obama administration has also come under fire due to information that has come to light showing the State Department rejected requests for additional security at the diplomatic post in Benghazi prior to the attack.