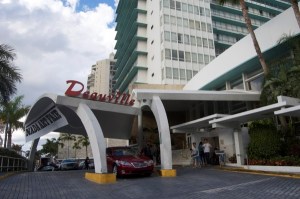 Competition is heating up as Art Basel Miami Beach approaches, and two satellite art fairs are not seeing eye-to-eye about exhibitors who are doubling up on fairs, The Art Newspaper reports.
A letter was reportedly issued from the desk of Heather Hubbs, director of the New Art Dealers Alliance (Nada), asking their exhibitors who had signed up to the inaugural Untitled fair to withdraw from that fair and "commit to NADA solely."
Untitled, for its part, had its attorneys send NADA a cease-and-desist letter demanding that they "immediately notify those with whom it has been in contact that it is withdrawing its opposition to such exhibitors participating in the Untitled fair."
NADA, which runs fairs in Manhattan, Hudson, N.Y., and Cologne, Germany, has roughly 90 exhibitors and special projects signed up for its Miami fair, which is celebrating its 10-year anniversary this year. For the second year, it's being held at the Deauville Beach Resort. Untitled, which announced in September that it would be joining the Miami Beach hoopla in December plans to have 50 international galleries and projects on board. It also had the tony firm K/R design a "compelling structure" for its beachfront digs.