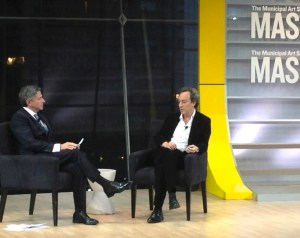 The MAS Summit has been going on for the past two days, and it has been a cornucopia of delights for the city-obsessed, full of zany proposals for affordable housing, green buildings, starchitecture, community-based development and a giant floating doughnut hovering over Grand Central. But so far the most thrilling moment was deliver by The Times' architecture critic Michael Kimmelman during a discussion capping day one with the Municipal Art Society's president, Vin Cipolla.
The two of them basically meandered through a bunch of Mr. Kimmelman's columns from his first year on the job, and the first question was about Penn Station, when the critic had the audacity to tell the Dolans to scram. He still believes it is one of the most pressing planning issues in the city all these months after he wrote the piece. "I think there's a hunger to do something about this site, which I think is a blight on millions of people's lives every single day," Mr. Kimmelman explained.
He then mentioned that he was going to the Barclays Center later that night, that he is preparing his response to that project, but first he had a message for the Dolans, who—James Dolan in particular—are not especially well known for heeding the advice of others.
"I just have this feeling that the Dolans, whom I gather are very ambitious and competitive people—I don't know why I think that—are going to discover that they have, despite the money they're pouring into Madison Square Garden, that they have now the worst arena in town," Mr. Kimmelman said, drawing titters from the audience. "Well, they always had the worst arena in town, but now they have the second best, which is also the worst arena."
At this, everyone broke out into full-throated laughter.
Mr. Kimmelman could have left it there, but he went on to reiterate the case he has already made for moving the arena to improve Penn Station—like the Dolans, he is not one to let a subject that is bothering him drop.
"I'm serious in a way about Barclays," Mr. Kimmelman said. "None of this is going to happen or would happen in the next few years. Even if you're looking at this optomistically from the Dolan's perspective, they poured in this money, but amoratizing it over the next decade or 15 years, they may find it's a useful thing, over the next decade or two, to find a new home for the Garden. It's moved many times before. And maybe we can even address this central problem for the development of Midtown West."
It has been a little over a year since Mr. Kimmelman's first column ran in The Times, on the front page no less. In that time, he has covered a lot of territory—perhaps not quite enough, we still wish he wrote more than every few weeks, sometimes even only once every month, but that is largely because he has probably surprised many of his doubters and proven himself to be an extremely capable architecture critic.
It is true, he may not be an architecture critic in the usual mold, but Mr. Kimmelman has proven himself to be one of the foremost advocates for quality design and urbanism at this time. While too many may focus on the sexy rendering, the individual building, Mr. Kimmelman has taken a humanist, global, even universal approach to his job that is as much about making his own impositions on the buildings and places he writes about as on letting those designer and designers impose on him.
Look at what he has come up with this week, not simply another call to arms about what to do with a threatened midcenutry icon in Chicago, the Prenctice Hospital. Instead, he went out and tapped one of Chicago's foremost architects, Jeanne Gang, and challenged her to create a solution. Judging from the local press, while they may bristle at the carpetbagger telling them what to do, the proposal has indeed started a conversation about alternatives to save the hospital and let Northwestern expand all the same.
If anything, Michael Kimmelman is a design advocate, not an architecture critic. That may be just what The Times, and these times, call for.
Update: This just in from Twitter.
[tweet https://twitter.com/paulgoldberger/status/259405121409134592]