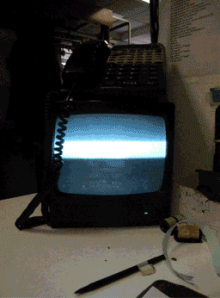 Michael Stipe, RoseLee Goldberg, Ryan Trecartin and the Rodarte sisters are just some of the artists and curators signed up to take part in "Moving the Still: A Festival of GIFS," the "first ever large-scale open call and exhibition" dedicated to GIFS as an art form, both in digital and real space. The festival, which is being presented by Paddle8, the online site for art collectors, and Tumblr, the social blogging platform, will launch its online call for submissions on Oct. 17.
The GIF file format turns 25 years old this year, but it wasn't until recently that it started popping up in gallery shows and art fairs. Remember when Lauren Cornell sold animated GIFS at Rhizome's booth at the Armory Show last year?
In honor of the anniversary, when the open call is done (it will stay live through Nov. 7), there will be a real-space exhibition of a selection of GIFS on view in the Wynwood District at Art Basel Miami Beach in December.
This is where the artists and curators come in. Messrs. Stipe and Trecartin, Ms. Goldberg and the Rodarte sisters, along with Richard Phillips, James Frey, Nicola Formichetti and Vinoodh Matadin & Inez van Lamsweerde will choose 25 GIFS for the Art Basel Miami Beach exhibition.
Winners will be announced on Nov. 26. Get on it.