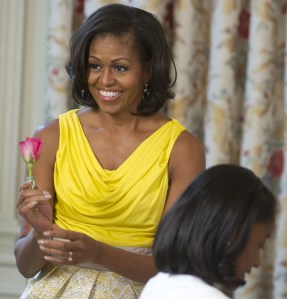 Michelle Obama is in Florida tonight for the final presidential debate and, this afternoon, she appeared at a campaign event Broward College where she had high praise for President Barack Obama's appearance. The first lady commented on her husband's looks when she was interrupted by someone in the audience as she started her speech.
"I'm pretty fired up and ready to go myself because today, like I've been doing for a couple of years now on this campaign trail, I get to do one of my favorite things, and that is to talk about the man that I have loved and admired since I first met him 23 years ago," Ms. Obama began.
"Cute!" someone in the crowd shouted.
"He's cute! Yes!" said Ms. Obama. "And as some in other rallies–he's downright fine."
Ms. Obama quickly pivoted and launched into her standard stump speech.
"Here's the thing, although my husband is handsome and charming and incredibly smart–yes, indeed–that is not why I married him," Ms. Obama said. "Listen closely. What truly made me fall in love with Barack Obama was something that you all see every day–it is his character. It's his decency and his honesty, the compassion and conviction that we have seen for four years in this man."
Despite her speeches, according to the pool report, Ms. Obama still had time for a pre-debate dinner of "steak and potatoes" with President Obama.