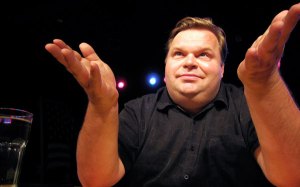 The monologist Mike Daisey's recent travails have taught him something valuable. His new work, a series of six monologues to be performed, one per month, at Joe's Pub beginning Monday, will allow him to premiere a piece only when he's comfortable with it.
"One of the reasons we constructed this series the way we have is it gives me flexibility—if I'm working on a story and it needs time to gestate, it gets that," Mr. Daisey told the Transom. "In the world of magazines, a long piece can be moved to the next issue. But in the world of theater, they're so used to working entirely in a world composed only of scripted fiction, and it's hard to say, 'You know how you got a description of a show—that's not what the show is!'"
Mr. Daisey, who answered questions in complete paragraphs, does not work from a script, and his monologues—the first of which in his upcoming series is capacious, including accounts of trips to Zuccotti Park, the Burning Man Festival and Disney World—appeal to an emotional sense of the truth, even as they take some license. This was the issue that led to Mr. Daisey's temporary fall from grace earlier this year, when an episode of This American Life adapted from his monologue The Agony and the Ecstasy of Steve Jobs was dinged for factual inaccuracies pertaining to a trip to a Foxconn plant in China. He has continued to perform a revised version onstage. "To be honest," he said, "the bigger problem is trusting yourself—I should make this personal—trusting myself. If you're good at storytelling, you can control the room. That's what makes it such a seductive medium. It's a rigorous responsibility to control that gift. It's difficult to face up to where you fell short. You must not abuse your gift. I went back into theaters. It was really clear to me I could get that authority back. The problem is not, will people give me authority back—when you're a professional storyteller in world where there are not many oral storytellers, the biggest problem is yourself."
In Mr. Daisey's telling, his relationship with his audience has not been affected by the controversy. "In the room, it's the same. Outside the room, in the media, it still feels stormy and tempestuous … It didn't only make me think about consequences of facts and what happens when people are factually true and what different degrees of truth are. It made me think about the value of imagination, and the value of not shortchanging that as well.
"Now that I'm on the other side of it, I'm a better artist. I'd be hard-pressed to roll time back," he said.
His new work places him, as with his journey to Foxconn and other past pieces, in unexpected locales; Mr. Daisey said he never expected to go to Occupy Wall Street, for instance. "My work has a strong political component, but in my lifetime, I haven't been an active activist. I have no history of protests. In each of these arenas, I came as an outsider."
As an outsider, Mr. Daisey has been able to ensure that his reactions to what he sees are genuine through a simple trick. Whether traveling to Disney, Zuccotti or the Black Rock Desert, "if something happens while I am somewhere, and I find myself consciously thinking, this would be a good story, I forbid myself from using that. If you really stick to it, you can send a message back to your subconscious—so I don't have that thought anymore. I'm actually able to have an authentic experience, and be present. I found it very helpful, if not for the creation of art, then for the living of a normal life."