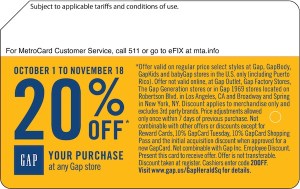 The MTA is not exactly known for its fashion sense. There are the workaday uniforms and the baggy tailored suits of the boardroom. The LIRR and MetroNorth conductors wear hats to make Anna Wintour swoon, but that's about it.
But now the agency will be enjoying a little fashion cache (but really, only a little) plus some extra cash thanks to The Gap. The middlebrow San Francisco clothier is the first firm to purchase the MTA's new ads on the front of Metrocards, the agency announced today. The cards are now on sale in vending machines throughout the subway system, and the ad cards are expected to account for about 10 percent of all Metrocards in the coming months.
"Opening up the front of MetroCards to advertising gives the MTA a new source of revenue," MTA Chairman and CEO Joe Lhota said in a statement. "We will monitor public acceptance of ads going forward to ensure that it doesn't interfere with use of the transit system. There is no reason why the MTA shouldn't put every resource it can toward helping its fragile finances."
It seems New Yorkers might actually be rushing out to buy a new ad-enhanced Metrocard even if they don't need one, and not just because they want to do their part for those fragile finances. In addition to providing passage to the subway and the coy message "BE BRIGHT NYC," the new cards also double as a 20 percent coupon at any Gap stores. The campaign is meant to drive (make that transit) New Yorkers to the refurbished Gap flagship in Herald Square.
What may be even more exciting are the HealthPlus Metrocards, where the ads are only on the backside of the card but they promise "Free or low-cost health insurance." But that deal is probably as reliable as a C-Train.
The MTA has been running ads and other material (9/11 commemorations, sustainability spots) on the back of the Metrocards for a few years now, but this is the first time the front of the cars have change in 15 years. That is when the MTA integrated the cards on both subways and buses and started offering free transfers. The color scheme was inverted, as well, from navy background with yellow lettering from when the cards were first introduced in 1993 to the yellow background with navy lettering that we know so well today.
That may be a fading memory, though, as it sounds like Metrocard ads are here to stay.
"Since we first announced that we would accept branded MetroCards, our phones have been ringing non-stop with inquires," said Paul Fleuranges, the MTA's Senior Director of Corporate and Internal Communications. "In the coming months, MTA customers will see other branded cards in the system. Like The Gap, advertisers are looking to showcase their logo and provide customers with a call to action."
So much for those smart cards.