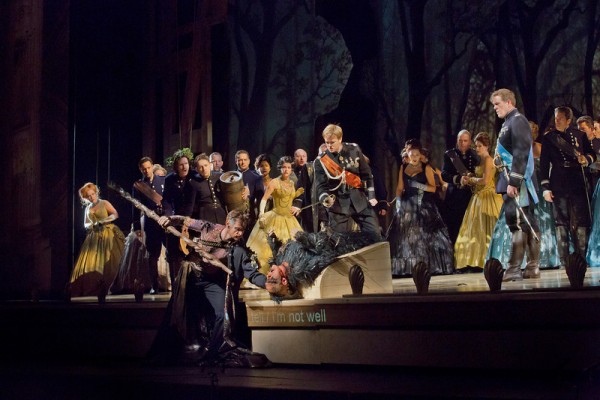 And now, as they say, for something completely different.
Just nine months after finishing up his woeful production of Wagner's Ring cycleat the Metropolitan Opera, the director Robert Lepage has done an about-face. He has abandoned the technical wizardry of the Ring—the 3-D video projections, the enormous rotating set—and pared back his style.
For the Met premiere of Thomas Adès's 2004 opera The Tempest on Tuesday evening, Mr. Lepage used one of the oldest tricks in the book: a theater—Milan's great opera house, the Teatro alla Scala, to be precise—within the theater. Old-fashioned wheels turn, and characters charmingly vanish into and emerge from the prompter's box. Mr. Lepage has put aside the forward-thinking ambitions of his Ring for the kind of hoary, aggressively adorable entertainment that is the specialty of another favored Met director, Bartlett Sher.
Like Mr. Sher's bland version of Donizetti's L'Elisir d'Amore, which opened the company's season last month, Mr. Lepage's Tempest looks like something that has been exhumed from a dusty storage vault. But this new production is the more mystifying of the two: why has the Met chosen to do a contemporary opera, one with a spiky, glinting score, in such a stale, static, cheesy-looking way?
The fault is not entirely Mr. Lepage's. The opera, which has been extravagantly praised since its premiere eight years ago, is deeply flawed as theater, with its tantalizing sound world rarely coming into dramatic focus.
The music is often sheerly beautiful. "Shimmering" is a word that is mentioned in almost every prose account of the work, and it does indeed seem to shimmer. There are long passages—Caliban's soaring Act II aria, "Friends don't fear," is the best of many—in which the sound seems to hover weightlessly in the air. The score manages the nearly impossible task of our postmodern era: being eclectic without feeling inorganic or inauthentic. It runs the gamut from the jazzy rhythms of the very beginning to a Baroque-inspired quintet near the end, and it never sounds like pastiche. It all sounds like Adès.
But after the rhythmic peppiness of that opening, the plot gets underway with a long, sluggish dose of exposition, when Prospero and his daughter, Miranda, slouch onstage to retell the story of his exile from the dukedom of Milan and their difficult journey to the magic island he now rules. Things never really get going from there. Mr. Adès's music is far more adept at creating an ethereal, kaleidoscopic mood than at shaping characters or drama.
Part of the problem is Meredith Oakes's libretto, which shows admirable willingness to mess with Shakespeare but doesn't go far enough. The Met has stranded us once more in doggerel land, the same place we ended up in Jeremy Sams's stomach-turningly cutesy libretto for last year's Baroque pastiche, The Enchanted Island.
So there are ineptly rhyming couplets like "Fearful story/I'm so sorry," and an antiqued, ersatz mood that feels out of step with the score. Mr. Adès's work has classical inspirations and aspirations, but it is of our time, seething and strange. It deserves less polite, less stagnant words.
And though it is good and necessary that the collaborators reshaped the play, it seems strange that one of the elements excised in the transition is the threatening nature of Caliban's character, and the aggression with which Prospero has enslaved him and Ariel. These are racial politics seen through a poignant, personal lens, and an aspect of the drama that would have spoken to us. Instead this Caliban is a dull, defanged monster, his half-hearted complaints those of a spurned lover (he lusts after Miranda) rather than those of an oppressed, infuriated minority.
Indeed, all of the characters' interactions lack weight and urgency. In the opera, when Miranda decides to marry Ferdinand against her father's wishes, it is meant to be an act as solemn and painful as Brünnhilde's rebellion against Wotan. But in the Ring Wagner crafts the father-daughter relationship so carefully and richly that its dissolution is heartbreaking. It is hard to believe in Mr. Adès's characters with anything approaching the same fervor.
With few philosophical or personal stakes, the music, as good as much of it is, remains essentially decorative. And I kept thinking that the score might have been better served—lighter and, yes, more shimmering—with a conductor other than the composer. Things frequently felt overplayed, italicized, more drawn out than transparent.
The cast was committed to parts that are often unrewarding. Prospero is onstage much of the opera, but mostly just to stand around and look moody and forceful. Simon Keenlyside, who originated the role in 2004, is ready enough to do this, and he is an intelligent singer, but his voice these days is less commanding than his physique and manner.
Alek Shrader and, especially, Isabel Leonard sing tenderly as Ferdinand and Miranda. Audrey Luna diligently handles Ariel's stratospheric wails, closing the opera with an otherworldly echo, and Alan Oke sings Caliban with naturalness and sincerity, less impassioned than Ian Bostridge on the recording but more affectingly subtle.
But many of the distinguished, mostly young artists—Iestyn Davies, Toby Spence, Christopher Feigum, Kevin Burdette, William Burden—are given precious little to do. The would-be comic relief, from Mr. Burdette's Stefano and Mr. Davies's Trinculo, is painfully unfunny. By the time the great acts of forgiveness and redemption arrive near the end, it is simply hard to care about these people. For all its eagerness to distinguish itself from Shakespeare, the operatic Tempest replaces the play's deeply felt emotions and deeply held ideas with wan sketches.