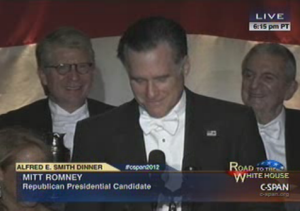 Governor Andrew Cuomo is widely talked about as a potential presidential candidate in the next election and he consistently dismisses the speculation by insisting he's purely focused on the job of governing the State of New York. Let's just say the featured guests at tonight's Alfred E. Smith Memorial Dinner didn't exactly help dampen the chatter surrounding the governor's future.
"I'm pleased to once again to see Governor Cuomo, who's already being talked about for higher office," former Governor Mitt Romney said as he was introducing the distinguished guests in the room. "A very impressive fellow, but he may be getting a little ahead of himself. Let me get this straight, he's had one term as a governor, he had a father who happened to be a governor, and he thinks that's enough to run for president?"
Of course, Mr. Romney and Mr. Cuomo are both sons of governors who had one term running their respective states, but if Mr. Cuomo does indeed run in 2016–possibly against Mr. Romney, should he win this year–it'd technically be with two terms under his belt.
For his part, President Barack Obama went to almost the exact same joke when he thanked Mr. Cuomo for his attendance at the charity dinner known for its self-deprecation and humor.
"Tonight I am here with a man who's the father of a popular governor, and who knows what it's like to run a major Northeastern state, and who very well could be president someday," Mr. Obama quipped. "I'm hoping it is Andrew Cuomo."