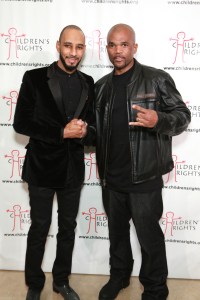 We were exhausted—it was our third night in a row at The Plaza, and, quite frankly, we were becoming a little too familiar with the hotel's ornate ballrooms at fund-raiser after frilly fund-raiser. The Observer loves schmoozing, but of late our calendar has left us rather harried—perhaps even unappreciative. As we arrived at the bedazzled edifice for the seventh annual Children's Rights Benefit this past Wednesday, we quickly took notice of rapper Nick Cannon, slipping coolly out of a large black SUV with an entourage and bodyguards. At last, something seemed fresh, and unpredictable. While hip-hop stars and R&B producers are certainly no strangers to this old-school bastion of New York excess, it's always exciting to see a touch of, er, young blood among traditional notions of prestige and privilege. With producer Kasseem David Dean a k a "Swizz Beatz" up for top honors that night, we anticipated that the hotel would be getting a much-needed dose of swagger. 
Cocktail time was a hurried blur. An eclectic mix of hip-hop notables such as Bow Wow and Shorty Da Prince, lawyers and their arm candy, and charitable old-money types buzzed about, slurping top-shelf cocktails at an alarming pace—you'd think that despite all the lavish pretense on display, not a soul there had previously experienced an open bar. But the pre-emptive binge was soon brought to a halt as dinner bells beckoned guests to their tables.
"It's fun being one of the greatest rappers of all time, but I'm here because I am an adopted foster child," Rapper Darryl "DMC" McDaniels began the ceremonies, ever so modest, as he beamed to the crowd from the ballroom's podium, dressed in his signature all-black baggy denim jeans, T-shirt and leather jacket. Why wear a stuffy three-piece suit, when your profession gives you the license to dress like you're taking a motorcycle up to the Cloisters?
The pioneer spoke to the crowd about the importance of Children's Rights, a national watchdog organization that advocates for abused, abandoned and neglected children.
We scanned our table brimming with mature, genteel professionals and nonprofit champions.
"I can't understand a word he is saying," cooed the lady to our left.
"Who is that?" whispered a grande dame to our right.
"No clue! Ask The Observer, he seems hip," another suggested, turning toward us.
We informed them that DMC hailed from one of hip-hop's original acts, Run–D.M.C.
"He reeks of rap," one patron snapped.
We suggested that she better learn to quickly enjoy the scent, because next up was rapper Nick Cannon, who empathized with the trappings of the nation's foster care system.
"My grandmother raised me because my parents were teenagers. She went on to raise over 100 foster kids and help with emergency care. I know why we're here tonight firsthand."
Rather than wait for our table to ask the proverbial question, we jumped right in.
"Nick Cannon is a big rapper and married to Mariah Carey," we yelled across the table.
"And this Beatz guy? Who is he?"
The honoree of the evening?
"His wife is Alicia Keys," we elaborated in unison with Anne Strickland Squadron, board of directors secretary.
Everyone nodded with better familiarity.
The now-recognized Mr. Cannon and Alan C. Myers, the chairman of Children's Rights' board of directors, then welcomed the man of the hour, Swizz Beatz, to the stage to receive the Children's Rights' Champion Award.
"There is no better place to be than right here," said the star, after detailing his jet-lagged adventure to make it to The Plaza.
"When you're a family man, you understand how important it is for every child to have an equal chance."
"He's deejaying the after party!" announced Ms. Squadron to her enduringly clueless but enthusiastic coterie after Swizz Beatz had taken his seat.
"Ohhh!" they chimed.
But before they could ask what an after party was, the night took a somber turn with an "If I Could Get My Childhood My Back" video montage, in which former victims of abusive and downtrodden upbringings shared their harrowing stories.
Then a one-time foster youth, Emalee Wooton, delivered a tear-jerker with her firsthand account of a tragic childhood, which she has triumphantly risen above to construct a new life for her children.
At a nearby table, stylish do-gooder and doll-about-town Arden Wohl and her business partner, cupcake king Massimo LoBuglio, sat uncharacteristically enthralled. Ms. Wohl said that she has taken some time off from the Manhattan party scene, choosing to focus on philanthropic projects such as the Girls Education and Mentoring Service with A-list gal pal Demi Moore.
"The only events I go to these days are for foster care and children's rights—and this is an amazing organization," she told us, in between dodging questions about the fledgling bakery business she is starting up with Mr. LoBuglio. The partnership of a philanthropist and a pastry mogul can surely only mean one thing: free cake.
Indeed, as the wine flowed, so did the contents of people's wallets at the charity's bash, with the event raising triple the funds forked over the previous year. Hugh Hildesley, executive vice president and senior auctioneer at Sotheby's, used his tipsy charm to great success during the annual reverse auction, which cashed out at $200,000. Two elusive high rollers also offered up $50,000 apiece for the foundation, with others contributing sums up to $25,000. In total, the soirée bleed the philanthropic crowd of about half a million. Meals at The Plaza can be so pricey these days!
"Tonight is better than the Grammys," Swizz Beatz proclaimed—a tad hyperbolic. By the time the after party rolled around, the mostly mature crowd had all but scampered off, as a new wave of 30-somethings trickled into a downstairs ballroom for the Young Leadership Committee members' late-night merriment and silent auction.
Enticing as a spin on the dance floor to David Guetta and Avicii may have seemed, we found our supposed young, hip selves rather exhausted and decided to pass on the gyrating, youthful bacchanalia scuttling out the back door before midnight, our dignity intact.
editorial@observer.com