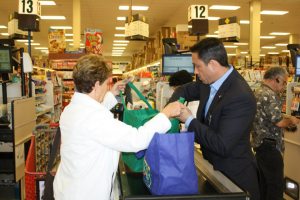 In Congressman Michael Grimm's latest "Day in the Life" series, he is a ShopRite grocery store bagger. The photo gallery is available here.
Former Deputy Borough President Barry Grodenchik certainly seems to be moving forward with his campaign for Queens Borough President in 2013. Yesterday, he registered a campaign committee and stepped down from his government job.
In their debate last night Democratic Senator Joe Addabbo and his GOP opponent, Eric Ulrich, discussed gay marriage and whether they would support its repeal in New York. Despite it being a line of attack for the Republican in the past, Mr. Ulrich may have had the more ideologically liberal answer, stating, "I don't think that vote would come up, but if it did come up, I would vote 'no.'" While Mr. Addabbo said he would, to be "consistent," take another poll of his constituents to decide.
Democratic Senate candidate Justin Wagner is busy touting his Republican support as he seeks to unseat incumbent Greg Ball. Yesterday evening, Mr. Wagner blasted out a press release announcing the endorsement of Brewster's Republican mayor, James Schoenig, who said in the statement, "Senator Greg Ball has built a six-year record of extremism, personal attacks, and political opportunism – and none of that has helped our communities." When Mr. Ball proposed dissolving the Village of Brewster in 2010, Mr. Schoenig called him a "big bag of wind."
Spending millions of dollars on campaign ads apparently pays off. In Siena's latest poll of New York State, Senator Kirsten Gillibrand's favorable/unfavorable spread increased from 24 to 34 points since last month's survey. In a coincidence, 10% more of the electorate also knows who Ms. Gillibrand's challenger, Wendy Long, is, but it's evenly divided among people supporting and opposing her. The cross-tabs are available here.
[scribd id=111212115 key=key-1ho4qhl9q700qxvuuu7m mode=scroll]
Correction: This post initially indicated Mr. Addabbo also said he opposed the repeal of gay marriage, when, in fact, he said he would survey the consensus of his constituents.