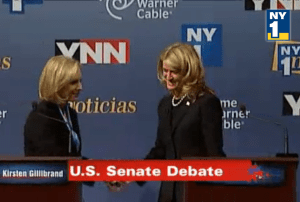 Headline of the Day: "Did Espaillat Smoke the Peace Pipe with Rangel?"
Senator Kirsten Gillibrand and her Republican opponent Wendy Long debated last night. You can watch the whole thing here, but it basically involved Ms. Long sharply criticizing the incumbent while Ms. Gillibrand ignored the attacks. Our rough count had Ms. Gillibrand saying "my opponent" twice, while directly addressing Ms. Long once in the entire hour. During the "lightning round" both candidates said they would like to be Majority Leader and both said they haven't read "Fifty Shades of Grey."
GOP Rep. Nan Hayworth debated challenger Sean Patrick Maloney yesterday as well, you can watch the whole thing here.
District Leader Lincoln Restler finally conceded after the Board of Elections certified a win for his opponent, Chris Olechowski. Mr. Restler claimed his fraud allegations had "a strong possibility of having the court order a do over of the election," but, "In the interest of putting the community first, I have decided against this course of action."
Longshot State Senate candidate Mindy Meyer's epically odd fundraiser got some additional color from Gawker, which described it as "the color of Pepto-Bismol."
If you're interested in the topic, GOP Congressional hopeful Dan Halloran gave a 20-minute interview to a skeptical libertarian supporter who repeatedly insinuated Mr. Halloran has betrayed the Liberty movement because, among other things, his new campaign website has less Ron Paul presidential material than his councilmanic website.
"When I get involved in a race, the sign of when I'm really really involvedin the race, I can't sleep at night," State Senator and Queens Borough President candidate Jose Peralta explains:
[vimeo http://www.vimeo.com/51538029 w=500&h=281]