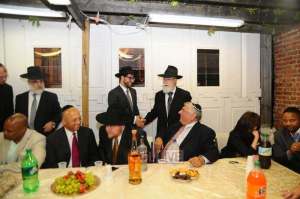 Welcome to  Brooklyn politics. Among the many pols doing Sukkah politicking in Crown Heights last Saturday night were mayoral candidate Bill Thompson, borough president contender Eric Adams, and the county's new Democratic leader Frank Seddio.
Welcome to Gerrymandering 101. Democratic Senator Joe Addabbo, whose previous district President Barack Obama won over 61% of the vote in, is barely hanging on to a narrow lead in Siena's latest poll, as is Mr. Obama. It's almost like his seat now contains every conservative voter in eastern Queens or something.
In the same Siena poll, it was also revealed GOP Senator Mark Grisanti will win reelection in a Buffalo district Mr. Obama is crushing it in. Moving on…
With recently released details, Gatemouth dug out interesting nuggets from the September 13th primaries. Among the revelations is that State Senator Adriano Espaillat beat Assemblyman Guillermo Linares 72% to 27% in Mr. Linares' own district when the two faced off a month ago.
Courtesy of the New York Post, here is today's story about Congressman Michael Grimm:
Staten Island Rep. Michael Grimm investigated the Gambino crime family as an FBI agent — before opening a restaurant with a business partner so close to one of the mob clan's capos, he considers him an "uncle," according to sources and court documents.

The first-term Republican's ex-business partner, Bennett Orfaly, regularly travels to the federal lockup in Fort Dix, NJ, to visit his pal Anthony "Fat Tony'' Morelli, Brooklyn federal prosecutors said.
The New York Times did a deep dive into the Dartmouth experience of Senator Kirsten Gillibrand and her GOP opponent, Wendy Long. We all know you want to see Ms. Gillibrand's 1984 "face book" photo, so look no further.
Things apparently look grim for District Leader Lincoln Restler's recount: "District Leader Lincoln Restler picked up a handful of votes during the first day of the recount on Friday as election workers began hand counting over 12,000. But it remains unlikely that Restler will be able to add or reject enough votes to reverse state committee candidate Chris Olechowski's slim 31-vote lead."
Here's a photo  of Comptroller John Liu rocking it with Councilman Peter Vallone. Quite the mayoral contender caption with it too: "Bfast with bill Diblasio at igloo, marched with Scott stringer in Astoria Columbus Day parade, then riding at Astoria park with j Liu – good times :)"