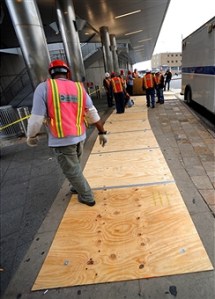 Update 10/28, 10:50: Governor Cuomo just announced that all MTA service will be shut down starting at 7 p.m. tonight. Full details from the MTA are at the bottom of this post.
"The transportation system is the lifeblood of the New York City region, and suspending all service is not a step I take lightly," Governor Cuomo said in a statement. "But keeping New Yorkers safe is the first priority, and the best way to do that is to make sure they are out of harm's way before gale-force winds can start wreaking havoc on trains and buses."
MTA Chairman and CEO Joe Lhota stressed that this was the best decision for the MTA and the city and the agency was prepared to execute the work. "The MTA proved it can suspend service in an orderly manner when it did so last year for Tropical Storm Irene, and we have refined our Hurricane Plan since then to help us prepare for Hurricane Sandy," he said. "This storm will batter the MTA, but the precautions we take now will allow us to recover much more quickly."
The announcement came earlier than originally expected, which had been suggested would come sometime in the afternoon. This underscores the continued concerns about the storm and the fact it has yet to abate in strength.
Mr. Lhota said it could take until Wednesday for the system to be up and running again depending on the severity of the storm.
Original Post: As with Hurricane Irene, the MTA must decide whether to shut down the system before the storm actually gets here because it takes time to move the rolling stock to higher ground. This not only protects the equipment but also allows for an orderly reactivation of service.
The MTA is waiting until tomorrow to decide if it will shut down service or not, based on developing forecasts, but if it does, MTA CEO Joe Lhota announced today that the system would begin to wind down starting around 7 p.m. Sunday night, with the full end of service by 3 a.m. Monday morning.
Mr. Lhota stressed that people should plan their activities tomorrow around the possibility of a shutdown regardless of what the agency ultimately decides. A final decision is not expected until sometime tomorrow afternoon, which might not give riders time to make it home should they forestall their travel.
"If you're coming into the city tomorrow, plan accordingly," Mr. Lhota said.
Just because the MTA will be in some operation until 3 a.m. on Monday does not mean riders should wait to be on the move.
"All throughout our system it will be similar to what with happened with Hurricane Irene, or Tropical Storm Irene, two years ago," Mr. Lhota explained. "That won't happen until we get a go decision, sometime tomorrow, and then it will be started at 7 p.m. up until 3 a.m. So there will be inconsistent service until after 7 o'clock so I really encourage all New Yorkers to be where you need to be or try and be home after 7 o'clock because there's really no guarantee after that, it will be inconsistent while we're getting all of our assets under control."
The main factors driving the shutdown is flooding, especially for the subway, though high winds can also play a factor. This is particularly and issue for the buses, which have to stop for anything over 39 miles per hour, as this can push the buses around dangerously. The bridges are also at risk when winds reach 60 miles per hour, though who really wants to be out driving in those kinds of conditions?
The full advisory from the MTA is below (Update 10/28):
New York City Transit

MTA New York City Transit/MTA Bus reminds customers that all bus and subway services will begin an orderly suspension of service at 7 p.m. this evening in anticipation of the high winds and heavy rains driven by Hurricane Sandy.

These actions are consistent with our Hurricane Plan, designed to protect the safety of customers, employees and equipment, and ensure our ability to restore service after the storm as quickly as possible. Work has been underway throughout the weekend in anticipation of this possibility

The Hurricane Plan is designed to protect the safety of New Yorkers before, during and after the expected impacts of Hurricane Sandy. Instituted for the first time last year, prior to the arrival of Hurricane Irene, the plan allows customers to move to safety prior to the storm's arrival, then protect employees and equipment before dangerous sustained winds of more than 39 mph reach the area.

Thousands of buses and subway cars have been pulled from service and stored in safe locations. Subway yards and bus depots that are prone to flooding have been cleared and that equipment sent to dry areas. Subway stations in flood-prone locations, such as lower Manhattan, will be evacuated of personnel and then secured.

Critical track-level components will be removed from under river tubes so that, if flooding occurs, they will not suffer from the corrosive effects of salt water. Prior to high wind conditions, workers visit elevated stations to make certain that everything is secure and not subject to wind damage.

NYC Transit subways and buses will run normal service until 7 p.m., with sufficient capacity to allow people to leave vulnerable areas or reach safe destinations before service is suspended. Most scheduled weekend construction projects have been cancelled to allow for potential evacuation and suspension of service.

Outbound Access-A-Ride trips are being scheduled only until 12 p.m. today, and return trips will continue until 5 p.m. Any previously scheduled trips after that time, including subscription trips, are cancelled.

The Staten Island Railway will attempt to continue to operate until the Staten Island Ferry suspends service, in order not to strand any customers in the ferry terminal. However, the railway will not operate if conditions are deemed unsafe.

Until the suspension is complete, NYC Transit will cross-honor Metro-North and Long Island Rail Road tickets to facilitate a safe trip home.

As soon as conditions allow following the storm, MTA personnel will evaluate damage and begin implementing its plan to restore service as quickly as possible while protecting the safety of all involved. Even with minimal damage this is expected to be a lengthy process that will impact service following the storm. MTA riders are urged to call 511 and stay tuned to mta.info and local news broadcasts before traveling.

Metro-North Railroad

As Hurricane Sandy approaches, Metro-North Railroad's last trains on all lines will depart at approximately 7 p.m. today. This will allow customers to safely reach their final destinations, either northbound or southbound, and to suspend service in an orderly manner.

The service suspension will allow all trains en route to complete their runs so that customers are not stranded unexpectedly. Metro-North urges its customers not wait until the last train to get home.

Until the suspension is complete, Metro-North will cross-honor New York City Transit MetroCards to stops in the Bronx to facilitate a safe trip home.

The Metro-North suspension also will affect all service on Amtrak's Northeast Corridor, which operates on Metro-North's New Haven Line from New Rochelle to New Haven.

Service also will be suspended on Metro-North's Port Jervis Line west of the Hudson River. Pascack Valley line service will be determined by NJTRANSIT. Customers should visit njtransit.com for service status information.

One train that has been cancelled prior to tonight's service suspension is the Train to the Game, Metro-North's direct service from New Haven to the 1 p.m. Jets- Dolphins game at MetLife stadium at the Meadowlands Sports Complex in New Jersey. The 8: 48 a.m. out of New Haven has been cancelled as has the return trip that leaves the Meadowlands at 4:48 p.m.

Grand Central Terminal, including its shops and restaurants, and all outlying Metro-North station buildings will be closed for the duration of the service suspension.

In preparation for the brunt of the storm, train equipment will be moved out of low-lying locations known to be prone to flooding, such as the east end of the yard in New Haven and Highbridge and Mott Haven yards in the Bronx.

As the storm approaches, Metro-North has secured its infrastructure by moving trucks, and equipment such as backhoes, cranes and bulldozers, to higher ground. This includes bringing trains into Grand Central Terminal for shelter.

In addition, the wooden crossing gates at grade crossings, which are susceptible to high winds, will been removed and secured. However, people should be aware that work trains and patrol trains may still be operating and approach all grade crossings with caution.

Also, a service suspension does not mean that power will be off to the third rail or overhead catenary wires on the New Haven Line. All tracks and wires will remain energized.

All routine track work and capital construction work has been suspended and all construction sites have been secured.

Parking lots that usually flood, such as the ones at White Plains and Beacon's riverside lot, are barricaded. Connecting ferry service at Beacon and Ossining is suspended. The Hudson RailLink that serves Spuyten Duyvil and Riverdale is suspended.

As Sandy bears down on the region, Metro-North also is taking steps to put personnel and equipment in place to be ready to deal with the cleanup after the worst of the storm has passed.

Many employees have been asked to shelter at a Metro-North shop or facility so they can start helping restore services as soon as the storm has passed. If the railroad did not ask for this extraordinary sacrifice, many employees would be unable to report for duty because of trees down, roads blocked or flooded, power outages and other problems likely to arise.

Metro-North will provide information around the clock. Customers should visit the MTA website, www.mta.info, listen to the latest traffic reports and sign up for free e-mail alerts for updates.

Customers can also contact the Metro-North Customer Information Center by calling 511, the New York State Travel Information Line, and say: Metro-North Railroad. If you are deaf or hard of hearing, use your preferred relay service provider for the free 711 relay to reach Metro-North at 511. For customers outside New York State, call toll free 877-690-5114.

The following is a list of the last trains that will operate on Sunday before the system-wide suspension:

Hudson Line

-6:50 PM train from Grand Central to Poughkeepsie arriving 8:32 PM
-6:59 PM train from Grand Central to Croton-Harmon arriving 7:57 PM (this train is normally an express but will make all local stops from Yankees-E. 153rd Street to Croton-Harmon)
-6:35 PM train from Poughkeepsie to Grand Central arriving at 8:22 PM
-7:00 PM train from Croton-Harmon to Grand Central arriving at 8:07 PM

Harlem Line

-6:48 PM train from Grand Central to Southeast arriving at 8:18 PM
-6:55 PM train from Grand Central to North White Plains arriving at 7:43 PM (This is normally a Saturday-only train)
-7:06 PM train from North White Plains to Grand Central arriving at 7:59 PM -7:13 PM train from Southeast to Grand Central arriving at 8:40 PM
-6:55 PM train from Wassaic to Grand Central arriving at 9:05 PM

New Haven Line

-7:07 PM train from Grand Central to New Haven arriving at 8:59 PM
-7:10 PM train from Grand Central to Stamford arriving at 8:17 PM
-6:53 PM train from New Haven to Grand Central arriving at 8:44 PM
-7:03 PM train from Stamford to Grand Central arriving at 8:09 PM

New Canaan, Danbury and Waterbury Branch customers: all branch line train service will end with the last train operating prior to the 7 PM suspension.

The last Amtrak trains to operate on the New Haven Line will be 7:05 PM Acela out of Penn Station, N.Y. and the 7:18 PM southbound out of New Haven.

Port Jervis Line
-6:15 PM train from Hoboken to Port Jervis arriving at 8:23 PM
-5:27 PM train from Port Jervis to Hoboken arriving at 7:38 PM

Pascack Valley Line customers should contact NJTRANSIT for information.

Long Island Rail Road

MTA Long Island Rail Road announced today the plans for the system wide suspension of train service beginning by 7 PM on Sunday, October 28, in advance of Hurricane Sandy making landfall, for the safety of its customers, employees and to protect its equipment. Customers are urged not to wait for the last trains when making their travel plans.

Suspending service allows the LIRR to secure and protect its equipment and infrastructure from the strong winds and flooding expected to hit the Long Island on Monday, October 29. With the shutdown, train equipment – both electric and diesel – will be removed from yards in low-lying areas that are prone to flooding.

Until the suspension is complete, the LIRR will cross-honor New York City Transit MetroCards to stops in Brooklyn and Queens to facilitate a safe trip home.

A major and time-consuming aspect of the LIRR's storm prep is the removal or tying up and securing of railroad crossing gates system-wide in advance of the storm to protect them from high winds. The LIRR has 295 railroad grade crossings system-wide – the great majority of which are on the eastern portion of the system. Since each crossing has multiple gates, a total of 690 crossing gates need to be secured or removed – a process that takes approximately 12 hours. Power to the crossing gates will also be removed. This process must be completed prior to forecasted sustained winds of 39 mph.

Train service must be suspended for the crossing gates to be removed. The LIRR started removing gates yesterday east of Ronkonkoma on the Main Line to Greenport, where weekend service does not operate at this time of year. Additionally, crossing gates will start being removed on the Montauk Branch east of Speonk today, October 28. As a result, LIRR train service east of Speonk on the Montauk Branch will be replaced with buses starting Sunday at 9

AM and continuing until 7 PM when the full service shut down begins.

Taking these pre-emptive measures before the full brunt of the storm arrives will help in the LIRR's recovery efforts after the storm passes.

Last Train Departures by Branch

The following is a listing, by branch, of the last trains to operate before the shutdown at 7 PM.

Babylon Branch:

Eastbound: The 6:40 PM train from Penn Station, due Babylon at 7:57 PM.
Westbound: The 6:58 PM train from Babylon, due Penn Station at 8:12 PM.

Montauk Branch:

Eastbound: The 5:41 PM train from Jamaica, due Patchogue 6:49 PM.
Westbound: The 6:42 PM train from Speonk due Jamaica at 8:10 PM.

Ronkonkoma Branch:

Eastbound: The 6:15 PM train from Penn Station, due Ronkonkoma at 7:35 PM.
Westbound: The 6:40 PM train from Ronkonkoma, due Penn Station at 7:59 PM.

Port Jefferson Branch

Port Jefferson

Eastbound: The 5:36 PM train from Huntington, due Port Jefferson at 6:25 PM.
Westbound: The 5:42 PM train from Port Jefferson, due Huntington at 6:29 PM.

Huntington:

Eastbound: The 6:51 PM train from Penn Station, due Huntington at 7:55 PM.
Westbound: The 6:36 PM train from Huntington, due Penn Station at 7:39 PM.

Oyster Bay Branch:

Eastbound: The 6:52 PM train from Jamaica, due Oyster Bay at 7:46 PM.
Westbound: The 6:20 PM train from Oyster Bay, due Jamaica at 7:14 PM.

Hempstead Branch:

Eastbound: The 6:42 PM train from Atlantic Terminal, due Hempstead at 7:35 PM.
Westbound: The 6:19 PM train from Hempstead, due Atlantic Terminal at 7:12 PM.

Long Breach Branch:

Eastbound: The 6:45 PM train from Penn Station, due Long Beach at 7:42 PM.
Westbound: The 6:26 PM train from Long Beach, due Penn Station at 7:21 PM.

Far Rockaway Branch:

Eastbound: The 6:12 PM train from Atlantic Terminal, due Far Rockaway at 7:05 PM. 2

Westbound: The 6:50 PM train from Far Rockaway, due Atlantic Terminal at 7:42 PM.