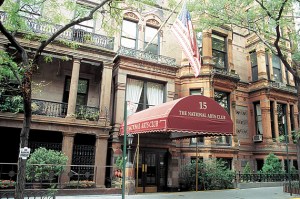 They don't look very good right now, but ten Gramercy Park apartments formerly controlled by ex-president Aldon James and his brother John will soon be returning to the market. Relatively soon, that is, following gut renovations that were much-needed after the apartments' time in the hands of the two hoarders.
Last week, Real Estate Weekly reported that the National Arts Club had finally reached a settlement with the Attorney General's office allowing it to tidy up the club's governance, financial controls and the filthy apartments. Today a state appeals court upheld the National Arts Club's decision to boot the James brothers, the New York Post reported.
The James brother still have some issues to work out with the Attorney General's office, however, which filed suit against them in late September for mishandling $2 million in club funds. The bulk of the badly managed monies—some $1.5 million—from the rent deals Mr. James gave himself and his friends, thereby depriving the club of significant income.
Mr. James allegedly commandeered more than a dozen apartments when he was president and rented them to his cronies for far below market value. He also kept a number for himself and his brother. The brothers, who are hoarders, told the court they needed the apartments to hold all the belongings they compulsively bought at auctions and antique stores.
The apartments are said to be in horrible shape, with holes in the walls and urine-caked bathrooms—hence the gut renovation. And there may be more rehab needed in the future. "The James gang" still controls four apartments in the building, although they have not been allowed to return since being ousted.
The revamped apartments will, according to terms worked out with the attorney general, be rented at market rate. Unfortunately, they will not be available to the open market, but only to club members. Much like the coveted keys to the Park!
kvelsey@observer.com