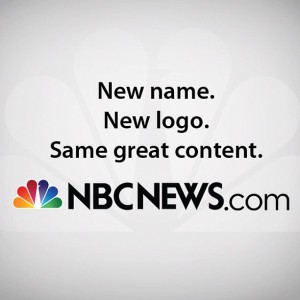 NBC News Digital named the executive editors who will lead NBCNews.com, TODAY.com and MSNBC.com, the news network announced today. NBC News Digital rebranded this July, after Comcast bought Microsoft's stake in NBC News.
Richard Wolffe will be the Vice President & Executive Editor of  MSNBC.com, overseeing the cable brand's website when it launches in 2013. Mr. Wolffe is a journalist and political analyst for MSNBC who has worked for the Financial Times and Newsweek. He has also written a book about the 2008 election. Gregory Gittrich will head NBCNews.com. Mr. Gittrich was the vice president of digital media and editor-in-chief of NBC Local Integrated Media. Before coming to NBC in 2008, Mr. Gittrich was the assistant managing editor of the New York Daily News.
Jennifer Brown, formerly the General Manager of TODAY.com, has been promoted to Executive Editor. Ms. Brown joined NBCNews.com in 2006 as the coordinating web producer for MSNBC's primetime lineup.
"This team possesses a stunning amount of experience, vision and creativity that will propel the growth of our digital businesses and serve the needs and desires of our online audience," Vivian Schiller, SVP and Chief Digital Officer of NBC News said in a statement. "We're looking forward to growing our digital properties and innovating around the best ways to deliver our high quality content."