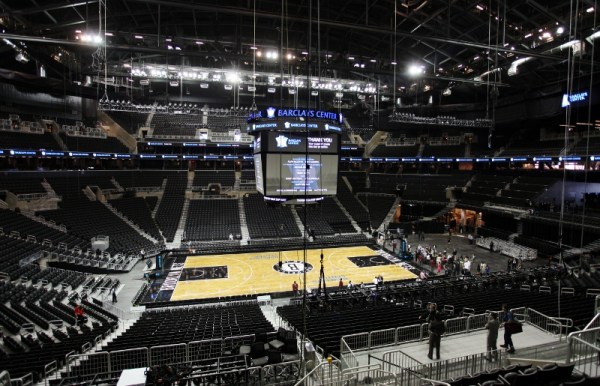 Mayor Bloomberg just said that he—not the Nets, not the NBA—made the decision to cancel tomorrow night's opening game at the Barclays Center between the now-crosstown rivals, the Brooklyn Nets and the New York Knicks. Instead, the first game will be Saturday night against the Raptors, and the hyped-up subway access to the arena may not be there, but extra buses should be. Here is the mayor's full statement on the game.
At my recommendation, the NBA has cancelled tomorrow night's game between the Nets and the Knicks, it was supposed to be the first Nets game in the new stadium. now the first Nets game will be Saturday at 7:30 at the Barclays Center, when the Nets play the Toronto Raptors. This game will be rescheduled, the NBA will be working with the city to provide extra bus service for Saturday night because the subways may not be back after that. There's plenty of mass transit, that's one of the beauties of the Barclays Center, unfortunately, we just didn't count on Sandy.

Hopefully Sandy doesn't come along very often.

We're sorry about the game, I was personally going to take both my daughter and Diana, we were looking forward to it, it's a great stadium, it would have been a great game, there's plenty of mass transit, but our police have other things to do. Lots of fans are going to be disappointed, the fans are disappointed, you should know the fans wanted to play, but I did talk to the NBA and recommended, asked them to cancel the game, it's all up to me.