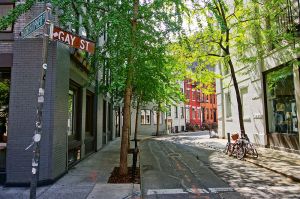 While New York is no closer to getting its first city-recognized gay landmark, it does have a Gay Street.
The street, a charming one-block stretch between Christopher and Waverly streets right off Sixth Avenue, would certainly be a well-placed tribute to the neighborhood's role in the gay rights struggle. But is that really what it's named for?
Alas, an investigation by the Greenwich Village Society for Historic Preservation reveals that the street's name predates that era of the neighborhood's proud history. But the story about the investigation is still a fun whodunit (or who-named-it) read.
As even casual history lovers are aware, in the 19th century and early 20th centuries, the word "gay" was an unambiguous adjective meaning happy, light and cheerful. Over time, the word eventually became associated with unconventional bohemian types (they always did seem to be having a good time, didn't they?) who flouted society's structures for the artistic life. Eventually, of course, it also came to be associated with the "unconventional" sexual preferences of those in the LGBT community.
And while the street's name is not as interesting as it may appear at first blush, it does have a lively history: around the turn of the century (19th to 20th) when the Village was a largely black settlement, it was the home of many African-American musicians. Years later, it housed writer Ruth McKenna and her sister Eileen, who wrote a book and a Broadway musical about their experiences there. And of course,  in the late 1960s and early 1970s nearby Christopher Street was the nexus of the gay rights movement that grew out of the Stonewall Riots.
But these were all just gay (19th century usage) coincidences. The street's name dates back to at least 1827, GVSHP reports, when it was most likely bestowed, like so many others, by or in honor of a local landowner.
But names are what you make of them, meanings shift, definitions are reappropriated. As Sheryl Crow sang in the 1996 music video she shot on Gay Street, a change would do you good.
kvelsey@observer.com