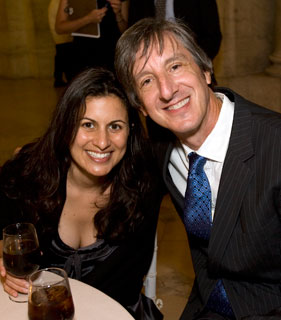 From the outside, at least, we didn't see a lot of room for improvement in Andy Borowitz's life. Write an eponymous satire column that gets picked up by The New Yorker? Check. Be heralded as "one of the funniest people in America" by CBS News Sunday Morning? Check. Marry a successful nonfiction writer (and fellow Harvard alum) and buy a classic six on the Upper West Side? Check and check. But apparently there's always room for improvement. Case in point Mr. Borowitz and wife Olivia Gentile have purchased an "extraordinary seven" at 294 West End Avenue.
Has Mr. Borowitz, a co-creator of The Fresh Prince of Bel-air, been dreaming of something more stately than his classic six all these years? Something more like the Banks mansion? The couple's old 2,000-square-foot spread on Central Park West was nice enough to merit a story in The Post a few years back, but the new place—a three-bedroom, 2.5-bath co-op that he and Ms. Gentile paid $2.63 million for, according to city records—is really swank.
As the listing, held by Brown Harris Stevens broker Kathleen Moosher boasts "the elegant entry hall leads to an expansive double living room with radiant eastern exposure and open views to Central Park. Custom crafted built in cabinetry houses a library of books with draws for storage."
Built-in bookshelves sound perfect for two writers and the storage will no doubt be a relief for the man who told The Post that he despised clutter: "If there's stuff everywhere, it's kind of oppressive."
The couple liked it so much that they didn't even fuss much over the $2.69 million asking price that owners Stephan and Elizabeth Mayer stuck on the spread when they listed it in June. We guess they didn't want to miss out on the chance to live in an apartment with a windowed dressing hall (that has two closets!) in the master bedroom suite or a bathroom with crackled subway tile.
As for all the would-be comedians out there, let this stand be a lesson: embrace your impractical career and you may too live the dream.
kvelsey@observer.com