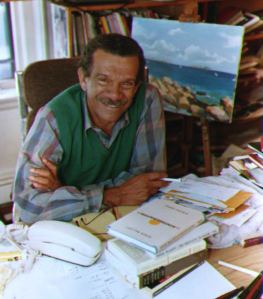 Some very fine news just landed in our inbox: Derek Walcott, the Saint Lucia–born poet who won the Nobel Prize in Literature in 1992, will be giving the keynote lecture at a symposium at El Museo del Barrio on the evening of Oct. 11. His lecture is titled "A Part of the Continent, from John Donne" and will be followed by a theatrical reading of his 1970 play Dream on Monkey Mountain.
The symposium is tied to "Caribbean: Crossroads of the World," a sprawling exhibition at El Barrio, the Queens Museum of Art and the Studio Museum in Harlem.
Besides being a MacArthur "Genius" Grant winner and Nobel laureate, Mr. Walcott is also a realist painter, and shows with June Kelly Gallery in Soho. If you have some time on your hands, this 1986 Paris Review conversation between him and Edward Hirsch is well worth a read. Mr. Walcott talks a bit about his influences as a painter:
The painter I really thought I could learn from was Cézanne—some sort of resemblance to oranges and greens and browns of the dry season in St. Lucia. I used to look across from the roof towards Vigie—the barracks were there and I'd see the pale orange roofs and the brickwork and the screen of trees and the cliff and the very flat blue and think a lot of Cézanne. Maybe because of the rigidity of the cubes and the verticals and so on. It's as if he knew the St. Lucian landscape—you could see his painting happening there. There were other painters of course, like Giorgione, but I think it gave me a lot of strength to think of Cézanne when I was painting.
Mr. Walcott's lecture is free. You can RSVP for it right here.