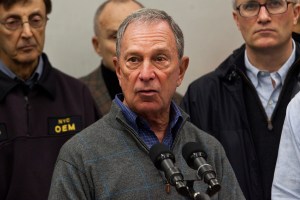 At a press conference earlier today, Mayor Michael Bloomberg announced public schools will continue be closed on Thursday and Friday, but will "hopefully" be open again on Monday of next week.
"Schools will remain closed for students tomorrow and Friday," Mr. Bloomberg said. "However, on Friday we ask all teachers, administrators and school staff to report to work. Friday, Chancellor Walcott and the Department of Education will have lots of things to do to get ready for next week."
As for parents who will struggle with the simultaneous tasks of taking care of their children and needing to go to work, Mr. Bloomberg sympathized with their plight but said the damage from Hurricane Sandy was too great.
"I know this is a great inconvenience for parents who are missing work because they don't have anyone to take care of their kids," he said. "But the bottom line is that there are an awful lot of schools that have received damage or don't have power. It's just so many that, in the end, we need the next four or five days to clean up and hopefully, by Monday, everything will be back perfect."