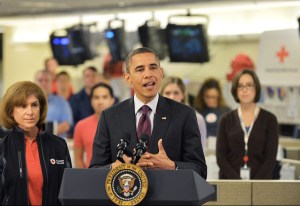 Standing before a Red Cross in Washington D.C. earlier this afternoon, President Barack Obama praised response efforts in the face of Hurricane Sandy, singling out New York in particular.
"This storm is not yet over," Mr. Obama said to begin his address, labeling the hardship faced by the country as "extraordinary," adding, "Obviously this is something that is heartbreaking for the entire nation." According to the White House pool report, the president went on to say his "most important message" to those recovering from the storm's devastating aftermath was, "America is with you."
Mr. Obama also noted the special efforts taken after New York University's hospital shut down, requiring an emergency evacuation during the hurricane's height.
In the report, he touted New York City's "spirit" and "resilience," citing those at the hospital "carrying fragile newborns to safety" and the firefighters wading into deep waters during the ordeal.
A subsequent statement from Mr. Obama's press secretary, Jay Carney, said the president will travel to New Jersey tomorrow afternoon, "where he will join Governor Christie in viewing the storm damage, talking with citizens who are recovering from the storm and thanking first responders who put their lives at risk to protect their communities."