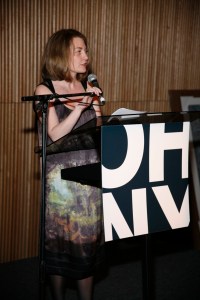 It's that time of year again when New York flings open its too-often locked and double barred doors for the 10th annual Open House New York (OHNY) weekend. The event promises unprecedented access to the cities myriad of architectural, cultural and historical gems. From the spectacular—The Grand Masons Lodge, which is participating with the event again this year at its historic 23rd street location—to the austere—the Brooklyn Army Terminal, an imposing 5 million square-foot site of criss-crossed steel and exposed concrete—to the just plain obscure and whimsical—come explore the lost streams of New York, which can be observed, using a flashlight, through the ventilation holes of old manhole covers, but normally that's about it.
It's a wonderland, this city.
For its 10th anniversary, OHNY is pulling out all the stops. "This year I can't get over the quality of each and every site," Margaret Sullivan, the OHNY board president and director of interiors at H3 Hardy Collaboration Architecture, told The Observer. "For me the TWA terminal, the Army terminal, and Pier 57, are special. They aren't typically accessible to the public and they've each made a huge contribution to the design of the city. They're represent places which are integral to the fabric of this city."
With nearly 350 sites, the OHNY weekend is a wild undertaking for a non-profit with only three full-time staff members. It's an event, which is according to a laughing Margaret Sullivan, put on carefully. "We have to explain what it's all about," to first timers, she explained. "Why it's a positive experience. There's an enormous amount of coordination that goes into ensuring that there's a site sponsor on site. Knowing how many people they can accommodate. Do we have the right pictures? Do they have the right hours? It's about 8 hours of coordination per site to secure a location for the event."
There are also a few sites that will soon be a piece of history themselves. The chance to see the north section of the High Line (the last piece that still remains in its barren naturalness) before it undergoes renovation, is a special treat. It represents, in a way, the dwindling number of remaining secrets in this city—a bittersweet reminder of what was nearly torn down before the now wildly successful park was built. At the same time, the elevated tracks will soon cease to be one of the off-limits remnants of the city's defunct architecture—a place that had once only been accessible to those willing to break a myriad of city trespassing laws to enjoy it.
"The synergistic relationship between OHNY and the High Line has been a model of what OHNY can do for organizations, through advocacy and engagement," said Ms. Sullivan. "It's really remarkable to experience the High Line as an overgrown rail yard and to see the city on that level is so interesting… To experience it, with all the rail ties and gravel is to be pioneer in the city again."
Likewise, the Fading Ads of New York City tour offers a chance to stop and remember the New York that once was. The tour is directed by the remarkable Frank Jump, a documentarian and historian of these commercial artifacts for more than twenty years now, whose breadth of knowledge on the topic is unsurpassed.
But it's not all rust and ruin. OHNY is, like the city itself, about restoration, revival and change. You can pretend to be Don Draper, sipping nostalgia and imagined cocktails in the TWA Flight Center, a 1969 flight wing designed by Roche-Dinkeloo and currently being restored by Chris Kramer of Beyer Blinder Belle Architects & Planners.
Or explore the Bell Book and Candle restaurant with owner and chef John Mooney as he explains his rooftop garden of energy-efficient hydroponic growing towers. A low space hightech garden, which allows John to harvest himself more than 60% of the fruit and vegetables which are used by the restaurants kitchens.
New Yorkers can also imagine the soon-to-be with Amanda Schachter and Alexander Levi of SLO Architecture, as they explain their unique proposal for the rehabilitation of the Westchester Avenue Station into a Bronx River right-of-way for canoeing and kayaking.
As Ms. Sullivan describes it, the sensational rush that comes from experiencing these environments for the first time is much of what inspires OHNY to put on this huge event every year. "We want to give citizens of this city a sense of ownership. An ownership, which comes from experiences that they wouldn't otherwise have.  It's why we're here.  We come to New York for aspirational experiences and we can easily lose that— through the monotony of work and the doldrums of our 9 to 5—lose the joy of what it means to be in the most interesting city of the world."
Also not to be missed, at least in The Observer's humble opinion, is the Central Park Arsenal—a fortress of turrets and cornices that neighbors the Central Park Zoo on 64th Street and 5th avenue.  The arsenal offers a smorgasbord of historic treats including original drawings of Central Park, WPA Murals, rooftop gardens, a 55,000-square-foot Drill Hall and period rooms of stunning ornateness with stencil work from Stanford White and stained glass fixtures from Louis Tiffany. Along with the various tours being hosted including the special Theatre for a New Audience hard hat tour and a behind the scenes Public Theater tour.
"The fact that you can curate your own experience is the part that is just so fabulous and empowering," concluded Ms. Sullivan, "Out of 350 programs what are the things that define what you are out the things that you have? We as a society are all somehow categorized by the objects we by and things we see. And the and advertisers want your interests to be categorized so that they can target you. What we realized is that our audience is diverse but our interests our diverse and that we as new yorkers like to be rebels in our own way. We can learn so much about each other through this collective experience of celebrating this city."