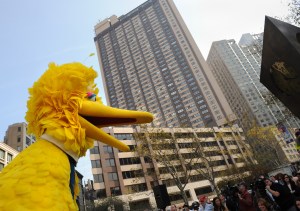 Team Romney has decried Democrats' repeated mentions of Big Bird since Mitt Romney brought up the beloved muppet while declaring his intention to end the federal subsidy for PBS during last week's presidential debate, but the Obama campaign shows no sign that they intend to stop invoking Sesame Street any time soon. In fact, at an Obama rally at Ohio State University this afternoon, rapper will.i.am performed a rendition of the theme song of the popular children's television show to rile up the president's supporters. 
According to Politico reporter Reid Epstein, who was on the scene at the Ohio State rally, will.i.am's Sesame Street stylings may not have had the desired effect.
"Much, much more enthusiasm when @iamwill plays Journey than for the Sesame Street theme song," Mr. Epstein wrote on Twitter.
Based on his other tweets from the event, Mr. Epstein clearly wasn't impressed with will.i.am's performance.
"So what is will.i.am 's talent again?" he asked.
will.i.am also made music for the president during the 2008 election. In February of that year he released a song, "Yes We Can," with lyrics based on one of Mr. Obama's campaign speeches. That song seems to have gone over much better than his performance today. The star-studded "Yes We Can" video, which featured appearances from a slew of celebrities including; Scarlett Johansson, Kareem Abdul Jabbar, Nick Cannon and John Legend went on to be seen by more than 24 million people on YouTube.
This morning, the Obama campaign released a web video mocking Mr. Romney for threatening to cut funding to PBS and take Big Bird off the air. Sesame Workshop, the foundation that creates the kids' show, responded with a two-sentence statement asking the Obama to remove the ad on the grounds they are "a nonpartisan, nonprofit organization" that doesn't "endorse candidates or participate in political campaigns."
Speaking to reporters on board Air Force One this afternoon, President Obama's campaign press secretary, Jen Psaki, said they are "reviewing" that request. She also addressed the Romney campaign's criticism that the Big Bird attack is exactly the kind of "small" tactic President Obama denounced in 2008. Ms. Psaki insisted the president's focus throughout this campaign has been on "serious issues."
"You've been out with the President the last few days, all of you have been. And 99 percent of his remarks are about his plans for fighting for the middle class, his plans for making sure that young people have the opportunity to go to college, to have access to affordable health care.," said Ms. Psaki. "You heard him last night and you'll hear him again today lay out the difference between his view on Iraq and the right steps we took in drawing down troops there, and Mitt Romney's doubling down on maybe we should have left troops…several thousand troops in Iraq, instead of what the President's approach was. This election is about serious issues.  That's what the President talks about every day."