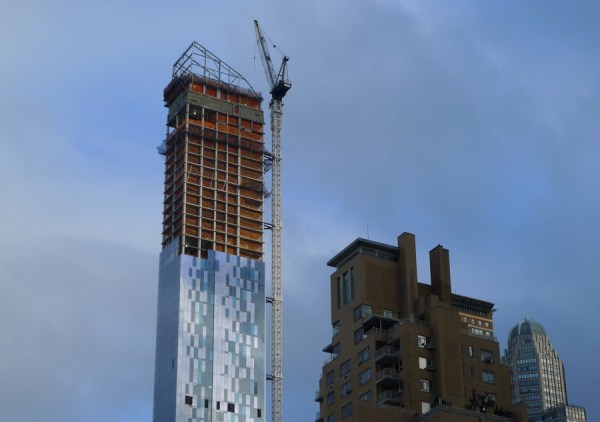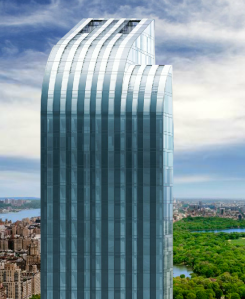 The MAS Summit has offered plenty of rousing discussions about design and architecture in the city, and cities around the globe, for the past two days at the Time Warner Center. But there was also an unexpected architectural treat outside. As readers are well aware, we here at The Observer are rather obsessed with One57 and its skyward march. Now, for the first time we have seen, the curving cornice of the building has been installed.
This revelation was exciting not simply for the continued progress of the city's biggest apartment building and the reshaping of the Central Park skyline, but also because of something we learned while reporting this week's feature on Goldstein, Hill & West: it was they, and not the celebrated Christian de Portzamparc, who is responsible for the crown of One57.
And in perhaps the firm's greatest coup, the city's biggest and grandest, apartment tower (for the moment), One57, is also a Goldstein, Hill & West production, according to two separate sources. French Pritzker Prize winner Christian de Portzamparc had been working on the building, but like so many other developers, Mr. Barnett turned the designs over to Mr. Hill to make them work.

When Kondylis & Partners dissolved, Mr. Barnett, and more specifically his bankers, were anxious about leaving Extell's biggest project to date in the hands of an untested firm, no matter how experienced the partners. Mr. de Portzamparc was brought back on to reconceptualize the 1,005-foot tower, and he has gotten all the credit ever since. When asked about the switch, Mr. Hill said he still sees his design, its familiar bends and curves. "I feel like Christian put his skin over the building that we formed and shaped," Mr. Hill said.

Mr. Barnett bristled at the assertion. "They were doing some work on it for a time, and we decided to go in a different direction," he said. "Everything—the layouts, the plans—is different. That is an ugly thing for anybody to have said. It is untrue."
The whole thing has us wondering: Who cares? Could you even tell if we hadn't mentioned it? Does this compare more—and more favorably—to the LVMH building (de Portzamparc) or the towers of Riverside South (Goldstein, Hill & West)?
It's the kind of question they would ask at the MAS Summit: What is design, and does it really matter?