On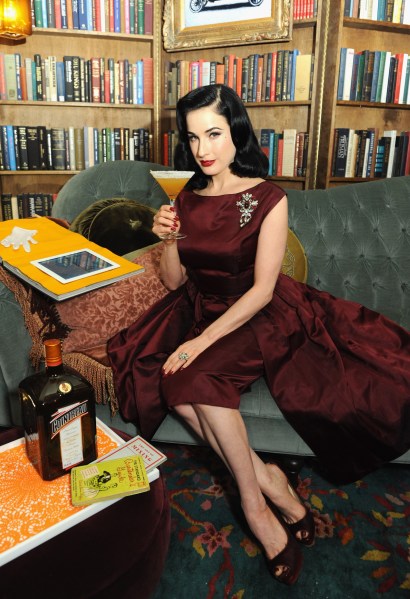 Monday night, America's classiest stripper, Dita von Teese, left little to the imagination at an intimate party hosted at La Maison Cointreau in the West Village. Later in the week she spoke to The Observer about her dreams of swapping Hollywood for New York City, and how she handles the burden of her international sex symbol status. 
You're credited with bringing burlesque back into the spotlight. How does that feel?
It feels pretty good! Not just to say it happened because of me, but because when I started making these funny little shows 20 years ago, I could never have imagined it would see this kind of resurgence. I've watched the way my fanbase shifted from being local people coming to see me in an underground strip club to something that is now mostly watched by women, which is amazing.
The black curls and red lipstick combo has become your trademark—do you ever ditch the beauty routine and hang out in sweats?
I really feel better when I'm wearing my red lipstick, just like some people do when they wear their favourite jeans, or have their hair the way they like it. It's an easy thing, and it makes me feel better, so I always do it before I leave the house.
What does it feel like to be seen as a sex symbol?
I don't think about it very often because most of my fanbase is female, but I think a lot of my fans want to emulate me because my look is very attainable. A lot of women can be like me and wear high heels and stockings, and paint their nails red to feel glamorous where maybe they didn't before.
You had a modest upbringing—how does your family react to your Hollywood lifestyle?
My mother is really supportive and sees a lot of my shows, but my dad has a tendency to believe what he reads. Occasionally he'll call me up asking about some inaccurate "news" article—and I'm just like "Dad, you can't believe this stuff." People can say anything on the internet, so I'm constantly having to tell my him: "no, that did not happen."
Your marriage to Marilyn Manson took up a lot of column inches. How did you deal with that?
I was happy to step out in public with my husband and we were happy to talk about each other, but it's a little bit weird now because you don't want that attention when you're trying to date someone.
You split your time between Paris and LA—can you ever see yourself moving to New York?
I have this big fantasy about having a second residence in New York, but I don't know it very well, so I feel like it would be nice to start a real relationship with the city. I hardly know what counts as being uptown or downtown, so I'd need to study it first!
You've made a lot of money since you hit the big time, but when did you first find yourself in the spotlight?
It was after I was on the cover of American Playboy – it was at a time when it was still a really big deal to be on the cover, Drew Barrymore had just been on it, Naomi Campbell…it was a time before reality stars made the front of the magazine. It was a very striking look for Playboy and thrust me into the spotlight, and it was a big moment when people wanted to see more of me and what I was doing.
How do you look back on your time in soft core porn and fetish clubs?
I have more respect for people who go there than the people who pretend to go there. Putting on a black wig with bangs doesn't make you have what Bettie Page had. Everything you do shapes you and makes you interesting for people to watch, and I have no regrets.