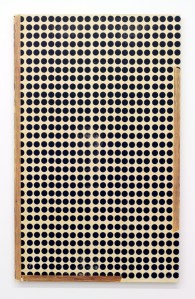 The big November sales are just around the corner, but this month the auction action has been on the charity circuit. Last Saturday, at the glitzy TWO x TWO for AIDS and Art auction in Dallas, a Lindsay Lohan painting by Richard Phillips sold for $300,000.
Meanwhile, on the same night in New York, at Miguel Abreu Gallery, a painting by Abreu artist R. H. Quaytman sold for $105,000 during the live auction portion of a considerably more modest benefit for Light Industry, soaring well over its estimated retail value of $35,000, to say nothing of its opening bid of $20,000. Though Mr. Phillips's auction record is an impressive $384,000, Ms. Quaytman, despite having a long line of successful shows over the past decade, actually has no auction record, according to the Artnet database. A fine debut, any way you slice it!
The painting, Light Industry (2007–12), saw bids from all over the room. Other lots were relatively quiet, as is usually the case at charity auctions.
The Quaytman sold to someone on the phone, with Masami Matsubara of Tokyo's MA2 Gallery underbidding.
A report had it that the woman who won the painting on behalf of her iPhone was an assistant to Barbara Gladstone. Ms. Gladstone's gallery, which represents Ms. Quaytman in Brussels, had nothing to say on that matter.
There's no Quaytman in this fall's auctions in New York. Perhaps next spring?