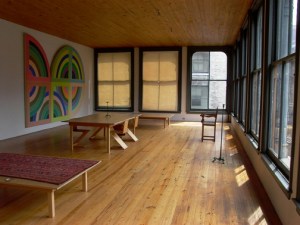 As the Judd Foundation prepares to reopen 101 Spring Street, Donald Judd's storied residence and studio space in Soho, in June, following extensive restoration, it is making some leadership changes. The foundation announced today that, beginning in January, the artist's children, Rainer and Flavin Judd, who currently sit on its board, will lead the organization as co-presidents. Barbara Hunt McLanahan, who has led the foundation for seven years as executive director, will step down.
"[Ms. McLanahan] has been a leader in encouraging new scholarship, new audiences, and best practices in promoting Judd's legacy, and we are so grateful for all that she has accomplished," Rainer Judd said in a statement. Ms. Judd, an actor, artist and filmmaker, is currently heading up an oral history project for the foundation, which oversees 16 properties, in New York and Marfa, Texas.
Mr. Judd, a designer, architect and writer, will focus on "curatorial matters and architectural issues having to do with the Foundation's buildings in Marfa, Texas, and New York," according to a statement from the foundation. He's currently overseeing the restoration of 101 Spring with board member Rob Beyer and architect Adam Yarinsky of New York's Architecture Research Office.
Early in Ms. McLanahan's tenure as executive director, the foundation put up 36 of Judd's works for sale at Christie's. They sold for a total of $27.8 million, helping build an endowment for the organization. She was also responsible for starting work on a catalogue raisonné of the artist's work, and launching a handsome website that allows its users to explore his library of 13,004 books.
"I am proud of all that has been accomplished during my time as executive director, especially with the 101 Spring Street restoration," Ms. McLanahan said in a statement, "and I am full of anticipation for the opening in June."
Update, 2:15 p.m.: Corrected that the restoration of 101 Spring is being completed with Adam Yarinsky, not by Mr. Judd and Mr. Beyer, a board member, alone.